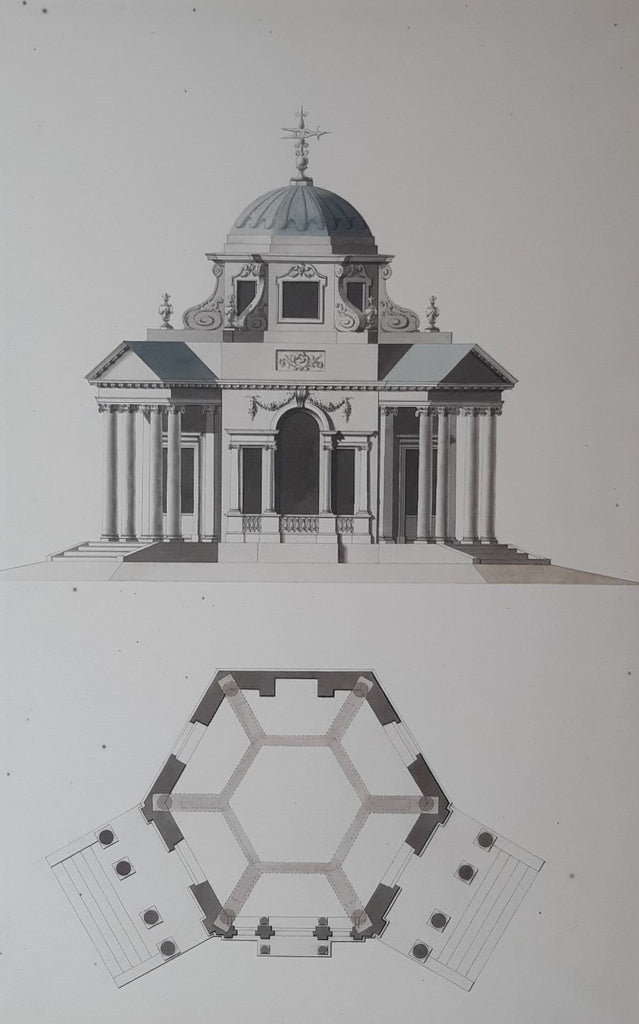 n.d.

Original architectural drawing by Thomas Sandby showing a neo-classical domed octagonal temple with baroque details. Pen and grey and black and pale blue and grey watercolour on laid paper with watermark "C&Honig". Sheet 497x258mm, window mount support (with ruled brown ink border) 478x333mm, taped at left edge onto heavy cream card 558x404mm. Slight spotting, otherwise in excellent condition. Although there are important institutional holdings of Sandby's architectural drawings, they are rare in commerce and this is a particularly fine example.
Although no buildings designed by Thomas Sandby (1723-1798) survive, he was one of the finest architectural draughtsmen and theorists in an age of great architects. Sandby's family background was modest and he led a simple life despite working in the grandest circles, principally in the household of George II's favourite son, William Augustus, Duke of Cumberland. Sandby produced military plans and drawings for the Duke's campaigns in Scotland and the Netherlands and, in 1746, Cumberland appointed Sandby Deputy Ranger of Windsor Great Park. He was also an assistant to Henry Flitcroft who carried out the alterations to the Great Lodge where the Duke was living. It was at Windsor that Sandby and his younger brother Paul produced the famous drawings and watercolours of the Castle and surrounding landscape, now in the Royal Collection.
In 1757, Thomas took charge of further building and landscape projects at Windsor including the development of Virginia Water Lake on the edge of the Park and many architectural drawings date from this period. In 1760 he moved to London where he taught, first at the St Martin's Lane School and then, in 1768, at the Royal Academy where he was a founding member and the first Professor of Architecture delivering annual lectures until shortly before his death. These lectures, illustrated with Sandby's own drawings were wide-ranging and influential, covering architectural history, practice and theory and were amongst the first attempts to construct notions of the Picturesque and the Sublime in architecture. We have been unable to date this drawing and there is no evidence as to whether the temple was ever built although it is a highly finished and polished drawing and it is possible that it was a design for a folly at Windsor or Virginia Water. Sandby's temple combines Palladian elements with more flamboyant Baroque details such as the buttress scrolls reminiscent of Santa Maria Salute in Venice. Whether or not this drawing by Sandby ever made it beyond two dimensions, it is a beautiful design beautifully executed.