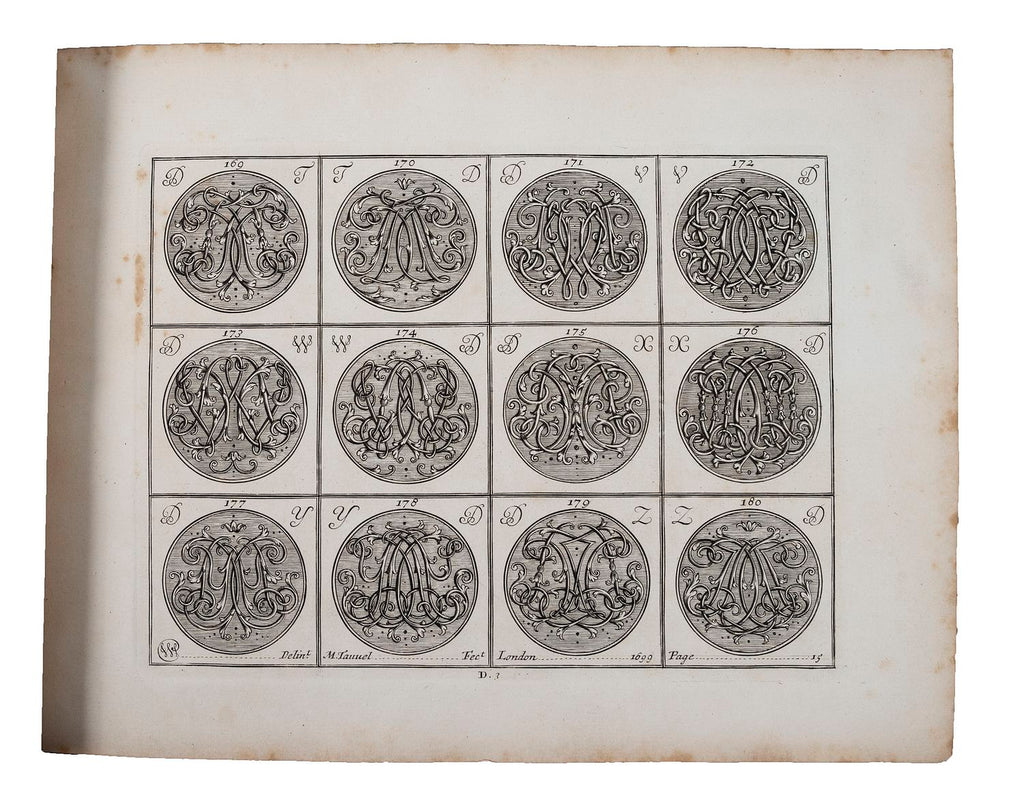 n.p. [S. Gribelin]. 1704.

First edition. Oblong 4to. 260x193mm. 12 leaves (including engraved pictorial title page), printed on recto only. Some foxing, mainly to the margins but otherwise a very good copy of this rare work by one of the most important and influential engravers of the early 18th century. Contemporary panelled calf, rebacked, spine lettered in gilt, rubbing and wear to extremities. Bound with and after A New Book of Cyphers; More Compleat and Regular than Any yet Extant Wherein the Whole Alphabet (twice over) Consisting of 600 Cypher, Is Variously Changed, Inter-Woven, and Reversed...Composed By Colonel Parsons. London: Printed for the Author and sold by W. Rogers and H. Rhodes; E. Harris; T. Newborough; and B. Barker, 1704. Oblong 4to, ll. [iv], 50, [2]. A mounted engraved portrait of Parsons (89x61mm) is loosely inserted. Frontispiece has a repaired tear and there is some marginal foxing (heavier on the preliminary leaves) but overall in very good condition.
Front free endpaper has the stamp of Birmingham Assay Office Library. Of the Gribelin, Worldcat records six copies and JISC Library Hub a further two. ESTC locates four copies of the Parsons in the UK and ten in the US.
Simon Gribelin's (1661-1733) set of sixteen engravings was designed as a pattern book to be used by artists and engravers seeking ideas and inspiration for their own work. Born in Blois to a Huguenot family of engravers and watchmakers, Gribelin moved to London in about 1680. Much of his early work in London involved the engraving of watchcases and other silver objects. Towards the end of the seventeenth century, he began to produce pattern books of engravings using neo-classical and rococo designs as in this collection. In 1707, Gribelin was the first engraver to reproduce the Raphael Cartoons (then in Hampton Court). This work made Gribelin's name and fortune and influenced English printmaking and collecting throughout the eighteenth century. A New Book of Ornaments is dedicated to Colonel Parsons.

According to an 1806 Biographical History of England, Colonel William Parsons "acquired great celebrity as a cypherer, but much more as a chronologist". His extraordinary skill as in designing cyphers (we would probably call these monograms now) combining, in pairs from AA to ZZ, all the letters of the alphabet is evident here. There is also a page showing how to make your own cypher using any number of letters Given the links between Parsons and Gribelin, it is possible that the former produced cyphers for Gribelin to use on his watchcases. This is engraved on the title page: "Being a Work very Entertaining to Such as are Curious". An accurate summary.