A plan for the employment of labourers, as adopted in Cropredy, and several other parishes
[CHAMBERLIN, W.H.].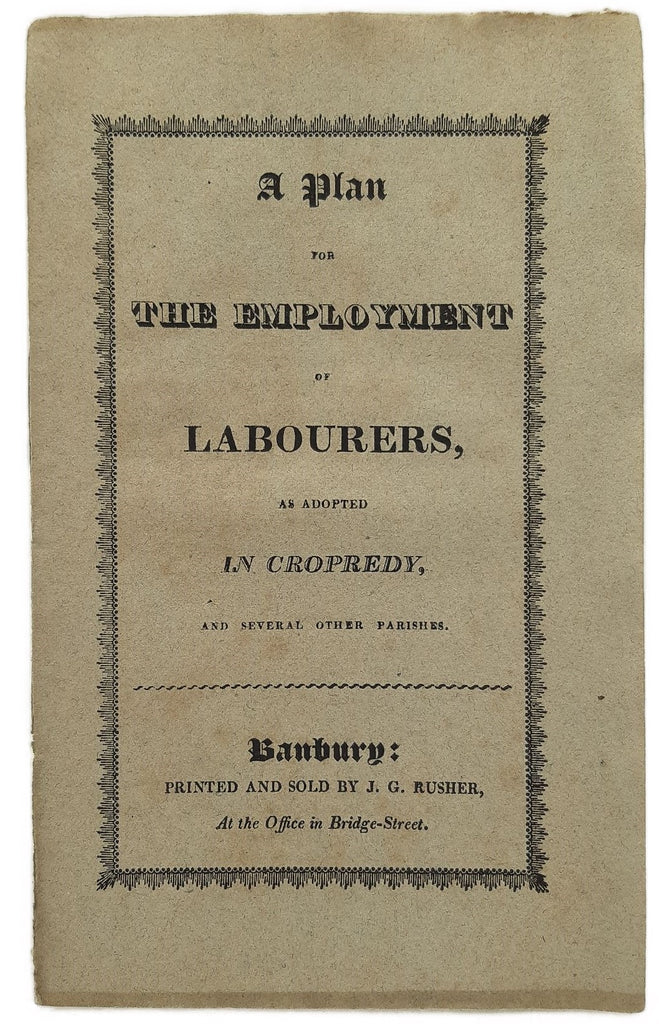 Banbury: Printed and Sold by J.G. Rusher. 1819.

215x133mm. pp. 10, [2]. Original grey printed wrappers, split at head and foot of spine but otherwise in excellent condition. This rare little pamphlet, of which Worldcat locates only four copies, is a plea for the free market hiring of labour in Oxfordshire. Chamberlin was concerned that existing rules governed by the Poor Laws required farmers to pay to the Overseers of the Poor a charge linked to the value of their land. Any employment offered by the farmer was treated as a discharge of the farmer's contribution to the Overseer with the result that two farmers could end up paying the same amount for relief of the poor but one had had work done on his farm while the other had not while the poor labourer, whose rate of pay was fixed by the Overseers, would be in the same financial position despite having slogged away in the fields. Whilst the poor laws were a crucial safety net particularly in rural areas, there were concerns about the cost and bureaucracy of the system. Chamberlin sought to introduce a contractual, free market element allowing the farmer and labourer to agree a rate of pay which would encourage those who could, to escape from the dead hand of the poor law overseer. Although Chamberlin notes in his introduction that his plan, adopted in November 1818, "has ever since been acted upon" it seems that it was only very briefly adopted and that by the 1821 this little experiment in wealth redistribution was, as is so often the case, defeated by the vested interests of the State.