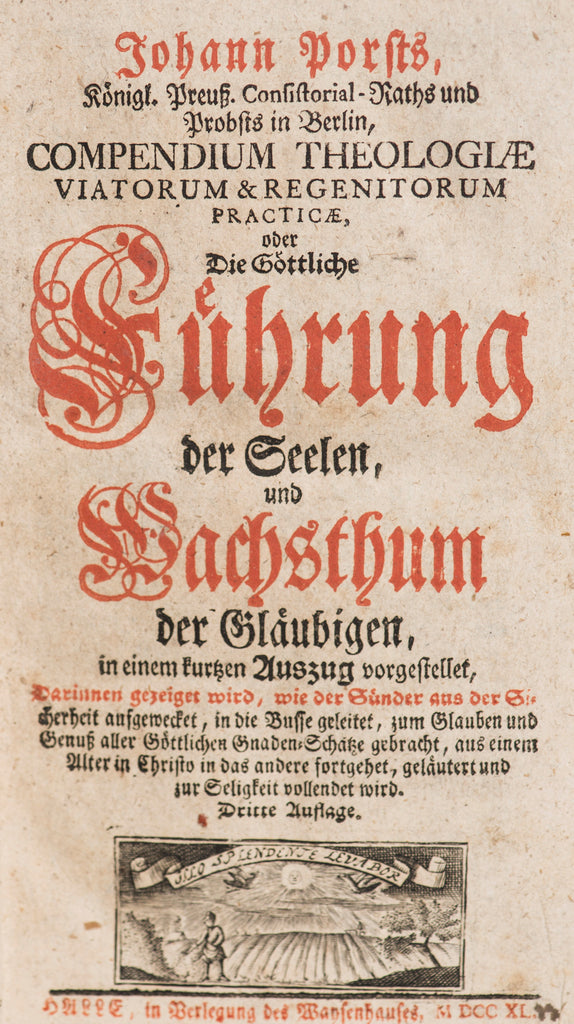 Halle: in Berlegung des Waysenhaus. 1740.

Third edition. 8vo. (170x95mm). pp. [xx], 1102, [50]. Full calf, decorated in gilt. All edges gilt and gauffered. Some rubbing to the covers and bumping and wear to the corners. Rubbing to the joints with some splitting to the joint with the upper cover. The foot of the spine is rubbed and the head is worn with some loss. Internally, an excellent copy, fresh and clean with only the usual browning found in German books of this period. Engraved frontispiece with six biblical scenes. The front pastedown has the armorial bookplate of Charles Kingsley and the verso of the ffep has the inscription: "Alexander Macmillan. From the study of Eversley Rectory. In memoriam Charles Kingsley. 1882".
Johann Porsts (1668-1723) was a leading member of the Pietist movement which challenged the mainstream, orthodox Lutheran Church by stressing the need for personal holiness and an internalised spirituality. It was viewed as religiously suspect and socially divisive. Perhaps for this reason, Pietism was hugely important in eighteenth-century Germany and beyond, influencing John Wesley in his break from Anglicanism. Porsts moved to Berlin in 1695 where he became a pastor in 1698 and in 1709, the confessor to the Queen Consort of Prussia. Porsts was a tireless writer and proselytiser for Pietism. His two most celebrated works are the 1722 Theologia Viatorum Practica and 1723 Theologia practica regenitorum. 1723 also saw the first edition of this Compendium which combined extracts from both works. Of Porsts's writing, it has been said that "a profoundly devotional spirit pervades everything".
Charles Kingsley's interest in Pietism was almost certainly academic and historical. He was Regius Professor of History at Cambridge and so one would expect to find in his library this central work from one of the most important and influential religious movements of the eighteenth century. Although Kingsley was unafraid of challenging religious orthodoxy, not least in his early support for Darwin, he was a mainstream Anglican, spending his last thirty years as the Rector of Eversley. It is from his study there that this book was passed, after Kingsley's death, to Alexander Macmillan, the founder of the publishing house, a friend of Kingsley and his publisher.