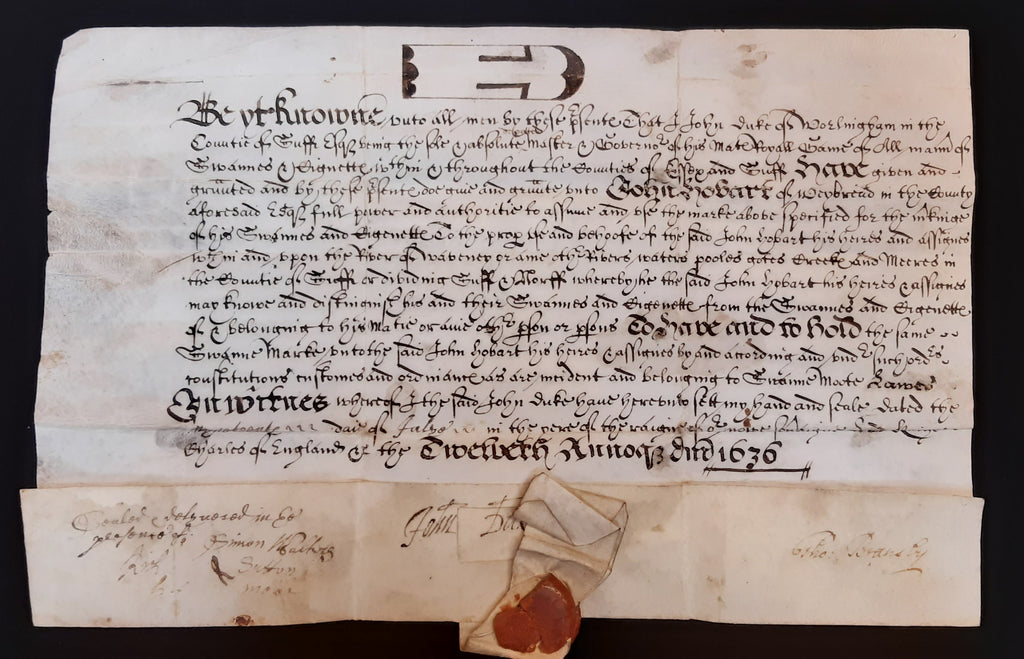 Worlingham, Norfolk n.p.. 1636.

Manuscript deed of grant of a swan mark dated 19th July 1638 signed and sealed by John Duke of Worlingham, Suffolk. 287x186mm. Written in black ink on vellum, with a pen and ink diagram of a swan's bill with the mark being granted at the head of the document, red wax seal. The signatures of the witnesses are also present as is the later signature of Thomas Bransby. The grantee of the swan mark is John Hobart of Weybread in Suffolk. The deed states that "I John Duke of Worlingham do give and grant unto John Hobart of Weybread...full power and authoritie to use the marke above specified for his swannes and cignettes".

John Duke of Worlingham is described in the document as the "Master of his Majesty's Royal Game of All manner of swannes and signettes within and throughout the counties of Essex and Suffolk". The Duke family were wealthy landowners who owned the manor of Worlingham. John Hobart was a member of a rich and important East Anglian family who owned land around Norwich and, more significantly, at Blickling in North Norfolk where Sir Henry Hobart was the deputy Swan-Master for east Norfolk and Suffolk in 1625. In the 18th century some of the Hobart land and estates around Norwich and the Broads were sold to Thomas Bransby whose signature is on the bottom right corner of the deed of grant.
The swan is a royal bird. From the 13th century, the Crown granted to landowners the right to own swans, the evidence of that ownership being a mark on the swan's beak (a "cigninota"). From the 14th century, the monarch appointed a Master of his (or her) Majesty's Game of Swans together with a network of deputies to look after the swans and cygnets in a specified area. These officials could then grant a "mark" to an individual who could then etch that pattern onto the beaks of swans on his land. By the late 15th century this all began to be formalised with registers of swan marks. This grant of a swan mark from John Duke to John Hobart is a nice example of the legal esoterica surrounding the complex arrangements of swan ownership.

Provenance. Acquired by the previous owner along with the swan mark roll sold at Christie's in 1999. That roll, dating to around 1500, was made for a deputy Swan-Master of Norfolk and, as it had the manorial mark of Blickling Hall was almost certainly in the ownership of the Hobarts of Blickling which links it to this deed of grant in favour of John Hobart.