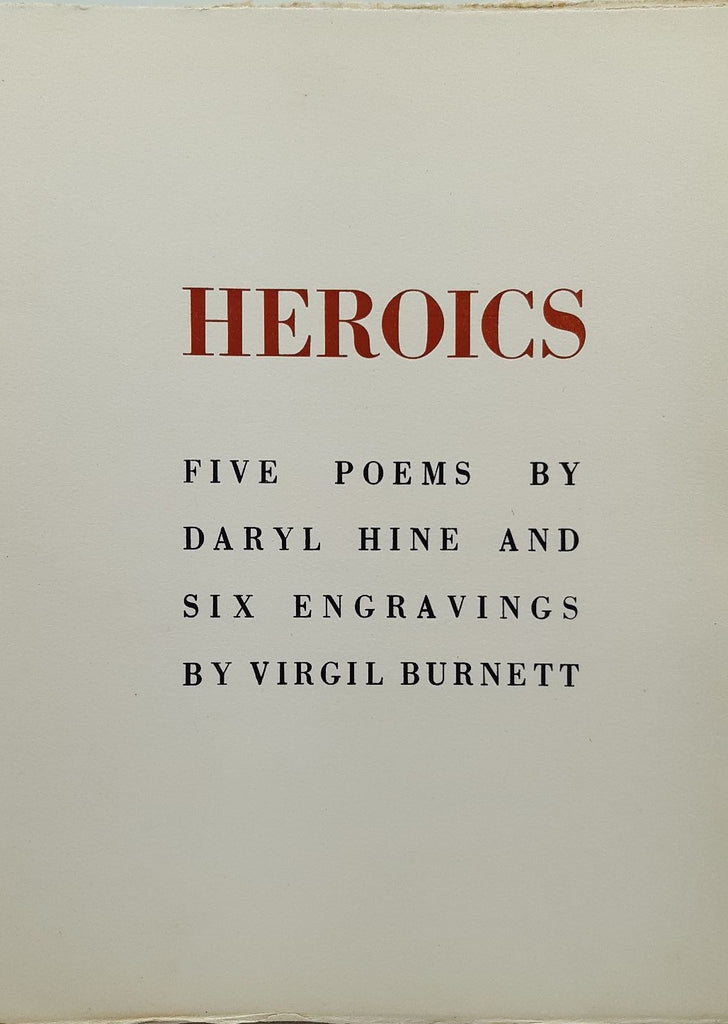 Fontainebleau: L'imprimerie Gosswiller. 1961.

Limited edition, exemplaire numéro 11 of 100. Eight folded sheets of Rives paper (250x400mm), the engravings on separate sheets (250x200mm). One further folded sheet which is a prospectus for Heroics. All housed in a folder with the title on the upper cover. The folder is a little soiled and there is slight foxing elsewhere but overall this is a very good copy of a scarce work. In addition, there are twelve loose typescript sheets (270x210mm) with poems by Hine. Two of them "Don Juan in Amsterdam" and "Patroclus putting on the armour of Achilles" are in Heroics, the latter in altered form so it seems probable that these typescripts were Hine's. The other poems are by Hine and some contain modest manuscript amendments.
The engravings by Virgil Burnett compliment Hine's clear, structured and classical verse. In the early 1960s, Burnett was living in Paris where he met Maurice Darantière, the printer of the first edition of Ulysses, who became Burnett's mentor. In 1966, Burnett established the Pasdeloup Press. Heroics, which predates Pasdeloup by five years is Burnett's first foray into the world of private presses and fine printing. It is dedicated to Darantière.
Daryl Hine (1936-2012) was a classicist by academic training and much of his work is inspired, both in form and subject matter, to the classical tradition but, although, his poetry is clever and learned, it is not forbidding. The five poems making up Heroics are full of human tenderness and the beauty of nature. A lovely collection, lovingly produced.