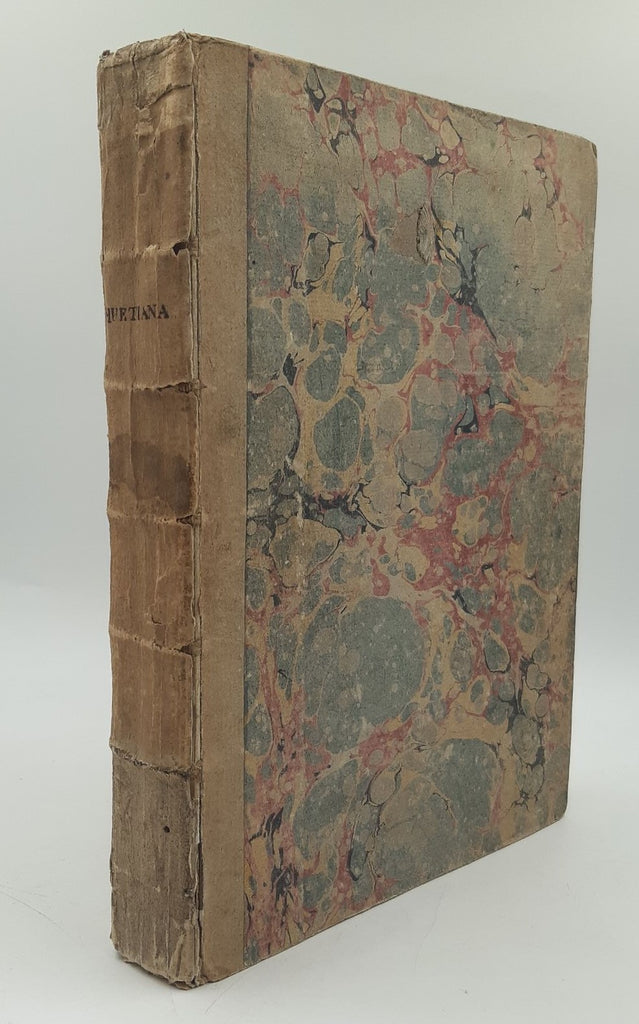 n.p. 1794.

Unpublished manuscript translation into English of Huetiana ou Pensees Diverses de M. Huet, Evesque d'Avranches. 257x190mm. pp. [1], lxviii, 376, [8, Table of the Articles], [1, Approbation]. Contents: An Historical Eulogium on the Author by the Abbé Olivet; Life of Huet from Bayle; Huet's Life from the New and General Biographical Dictionary 1761; A Tour to Stockholm translated from the Latin of M. Huet by J. Duncombe; Anecdotes from the Latin of M. Huet. The Historical Eulogium and the Huetiana themselves are translations from the French published in 1722 as Huetiana ou Pensees Diverses de M. Huet, Evesque d'Avranches. The other preliminary material is taken from other sources so this is not merely a translation of an earlier book. It is a unique work and the only complete translation of the Huetiana in English.

In excellent condition in the original marble paper covered boards, spine bound in grey paper with title "Huetiana" in manuscript. Some minor tears to paper at the spine and to upper and lower covers.

The translator of the Huetiana is not named but we have identified him as John Duncombe, a priest and scholar who, as is clear from the introduction, also translated A Tour of Stockholm. Duncombe was a contributor to The Gentleman's Magazine and some of his translations of the Huetiana appeared there and are exactly the same as those in this manuscript. As the manuscript contains translations from the Huetiana which did not make it into the The Gentleman's Magazine, it must have been done by someone with access to Duncombe's work after his death. Our firm view is that this is his widow Susanna Duncombe, née Highmore. Her parents, adopting the principles set out by John Locke in Some Thoughts Concerning Education, took her intellectual development extremely seriously. She wrote poetry as well as translating verse from Latin, Spanish, French and Italian and was an accomplished artist. Susanna was part of the circle of highly educated women around Samuel Richardson (his "literary daughters") with whom she corresponded and whose Pamela was illustrated by Susanna's father, the artist Joseph Highmore. She had a long courtship with John Duncombe who made her the heroine of his poem The Feminiad (1754) in which Susanna (as "Eugenia...The muse's pupil from her tend'rest years") is praised for her "ingenious allegory" of Fidelio and Honoria and their search for happiness. Susanna and John married in 1761 and moved to Canterbury where they lived in the Cathedral Close, Susanna illustrating her husband's own writings including a translation of Horace. After John's death in 1786, she lived a life of quiet retirement with her daughter and several cats. Susanna died in 1812 and this manuscript produced in a beautifully artistic hand dates from the early years of her widowhood. Despite her skills as a poet, Susanna published little and it seems that her intellectual accomplishments found fuller expression through conversation and correspondence. An aptitude for the finely honed aperçu made her well suited to working on this manuscript translation of the short essays, table-talk and "ana" of Huet.

Pierre Daniel Huet (1630-1721) was a priest and scholar with an international reputation. He was part of the court of Queen Christina of Sweden where he made important discoveries in the Royal Library. His intellectual range was vast, stretching from biblical and classical scholarship to anatomy and natural history, mathematics and astronomy and the theory and practice of translation. His library of books and manuscripts was left to the Jesuits and then bought by the French Royal Collection. Huet's wide-ranging mind is brilliantly displayed in the Huetiana which brings together short essays on Gardens, the Origins of the name of the Alps, Cicero, the Fidelity of a Dog, the Dread of Thunder, geometry and the Decay of Learning.
Sold with:
HUET, M. HUETIANA ou Pensées Diverses de M.Huet, Evesque D'Avranches
Paris: Chez Jacques Estienne 1722
First edition. 12mo. 160x93mm. pp. xxiv, 436, [16]. Contemporary speckled calf, spine lavishly decorated in gilt, second compartment with red morocco label lettered in gilt, marbled endpapers, bookplate of Robert J Hayhurst. Slight loss to head and foot of spine and light cracking to head and foot of joint with upper cover. Internally very good and overall a nice copy of the first edition of the Huetiana edited by Abbé d'Olivet, a member of the Académie Française. It is from this edition that the manuscript translation has been taken. 
and with: 
Constable's Miscellany. Constable's Miscellany of Original and Selected Publications in the Various Departments of Literature, Science, & the Arts. Vol. X. Table Talk
Table-Talk; or Selections from the Ana. Containing extracts from the Different Collections of Ana, French, English, Italian and German. with Bibliographical Notices.
Edinburgh: Printed for Constable & Co. 1827
12mo in 6s. 142x85mm. pp. x, [2], 15-326. Green half calf, decorated in blind to spine, contrasting labels, lettered in gilt, marbled endpapers. In very good condition throughout. A collection of pieces brought together under the title of "Ana" which is described in the preface as a "conspicuous and interesting portion of French literature". Ana are a "blending of moral apothegms, of critical remarks, of serious and comic anecdotes, of scientific or literary information". The examples brought together in this volume are taken from French, English, German and Italian authors. Among the French writers is a small selection of pieces from Huet in a different translation from that of the manuscript included in this collection of books.