i. Peter Ibbotson, with an Introduction by his cousin Lady ***** ("Madge Plunket").
DU MAURIER, George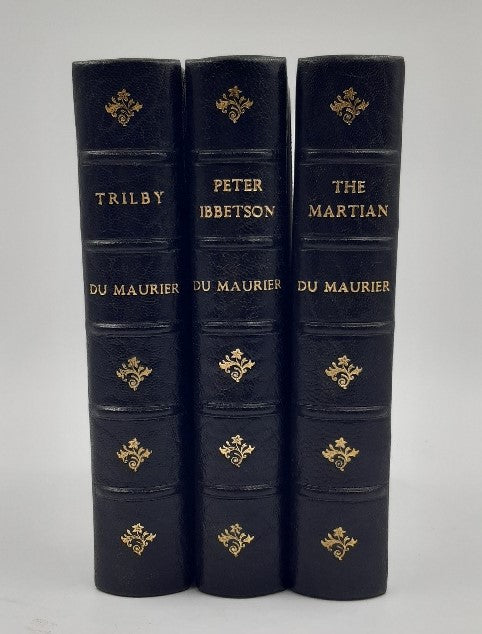 London: James R. Osgood, McIlvaine & Co.. 1896. 8vo. 182x140mm. pp. [iv], 381, [1], [2pp adverts].
ii. Trilby. A Novel. London: Osgood, McIlvaine & Co. 1895
First edition. 8vo. 182x140mm. pp. [x], 447, [5pp adverts].

iii. The Martian. London and New York: Harper & Brothers. 1898
First edition. 8vo. 182x140mm. pp. [viii], 471, [1], [4pp adverts].

Bound by Bayntun in black half morocco, pale blue linen covered boards, spine decorated and letter in gilt. Top edge gilt. The original navy blue cloth cover with gilt vignette has been pasted to the front pastedown. The binding is in excellent condition. Internally fine but with some slight staining to the fore-edge caused by the gilding to the top-edge. Illustrated by du Maurier who, before becoming a novelist was a successful cartoonist for Punch. His cartoon "True Humility" gives us the expression "Curate's Egg" although du Maurier plagiarised this from another magazine ("Judy") which run a similar cartoon with the same joke six months earlier. Whether du Maurier's novels are plagiarised we cannot say. Whether they are "curate's eggs" is another matter. du Maurier's three novels published in this uniform edition are offered here as a set of three, not sold individually.