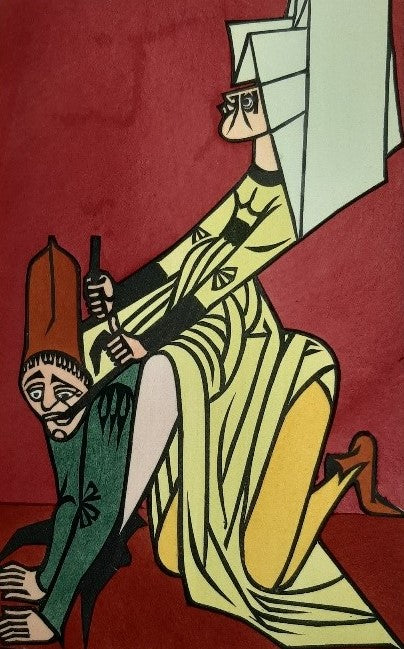 Paris: Editions Jardin du Luxembourg.. 1948.

Limited edition, number 468 of 640First edition thus with the woodcuts by Rene Ben Sussan hand coloured "au pochoir" by Edmond Vairel. Typography by A. Tallone. Printed on BFK Rives paper. 4to. 305x205mm. pp. xx, 21-312, [4]. Fifteen full page coloured woodcuts at the beginning of each chapter, specially made for this edition. These are in immaculate condition and internally the whole book is in fine condition. Bound by Giulio Giannini in red calf. Upper and lower covers with a triple fillet border in gilt, and a central panel with a triple fillet border in blind with a floral device at the corners. Inside this central panel are two pairs of curls with a fleuron and an encircled dot all in gilt. Spine has five raised bands, triple fillet in gilt to head and foot, second compartment lettered in gilt, other compartments decorated with a simple floral device in gilt. Top edge gilt, turn-ins decorated with triple fillet in blind with gilt flower in corners. Some slight surface marking to the covers and a little rubbing to the top edge of the rear board but overall a handsome binding in very good condition from one of the most celebrated Florentine binders founded in 1856 and still operating today.
Les Quinze Joyes de Mariage is an anonymous medieval satire first published in Lyon in the 1480s making it one of the earliest printed books. The "joys" are, of course, no such thing, the book serving as a sarcastic warning to men to avoid the trials of matrimony. Rene Ben Sussan's beautifully coloured woodcuts capture the misogyny of the text presenting wives as lustful, deceitful, greedy, wheedling and domineering.