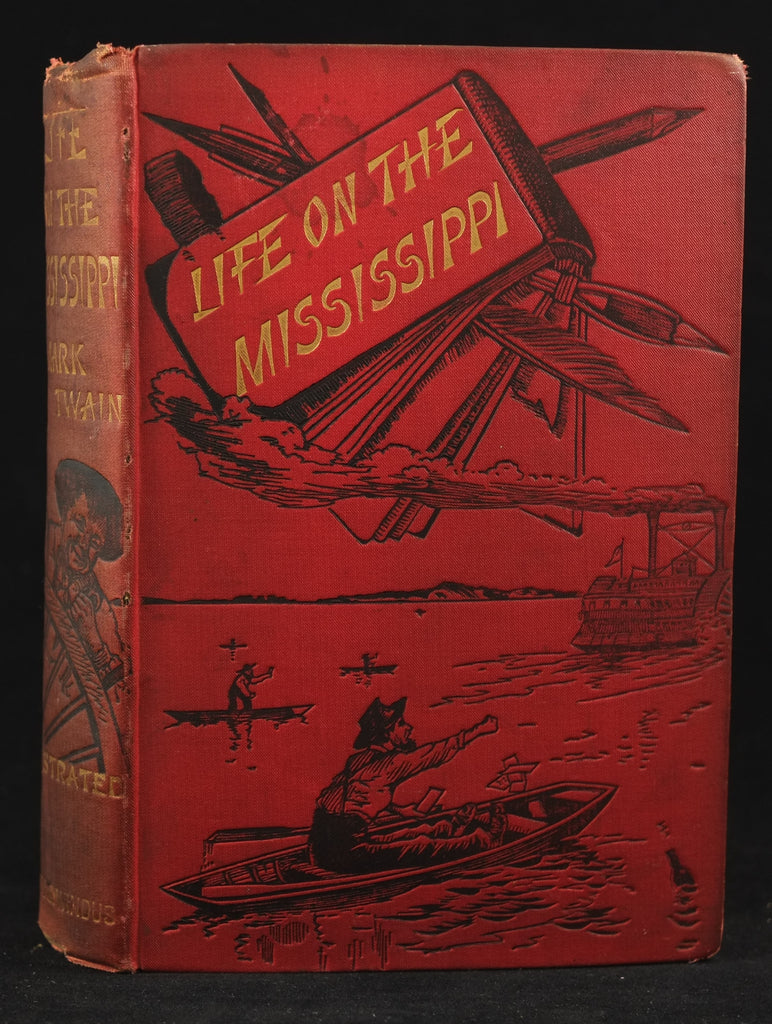 London: Chatto & Windus. 1883.

First edition. 8vo. (185x120mm). pp. xxv, 562, 32 [advertisements, March 1883]. First edition published in the UK a few days before the first US edition. With over 300 illustrations. Original publisher's red cloth with illustration stamped in black to upper cover and spine and with the title in gilt. Publishers' device stamped in black and red on the lower cover. Wear to the head and foot of the spine and to the corners. Attractive olive-green leaf pattern endpapers. Slight shelfwear to the edges. Contents clean and tight with only minor foxing or marking. Front pastedown has the armorial bookplate of Lord Kennet of the Dene.
Life on the Mississippi  is part memoir, part travel book. It tells of Mark Twain's period as a steamboat pilot on the Mississippi River before the American Civil War. But it also describes his trip along the Mississippi River from St. Louis to New Orleans. The book begins with a brief history of the river beginning with the Spanish explorer Hernando de Soto in 1542. It continues with anecdotes of Twain's training as a steamboat pilot, as the 'cub' (apprentice) of an experienced pilot, Horace E. Bixby. He describes the science of navigating the Mississippi in a section that was first published in 1876, entitled "Old Times on the Mississippi". Although Twain was actually 21 when he began his training, he makes himself appear somewhat younger, referring to himself as a "fledgling" and a "boy" who "ran away from home" to seek his fortune on the river. In the second half, Twain narrates his trip many years later on a steamboat from St. Louis to New Orleans. He describes the competition from railroads, and the new cities, and adds his observations on greed, gullibility, tragedy, and bad architecture.