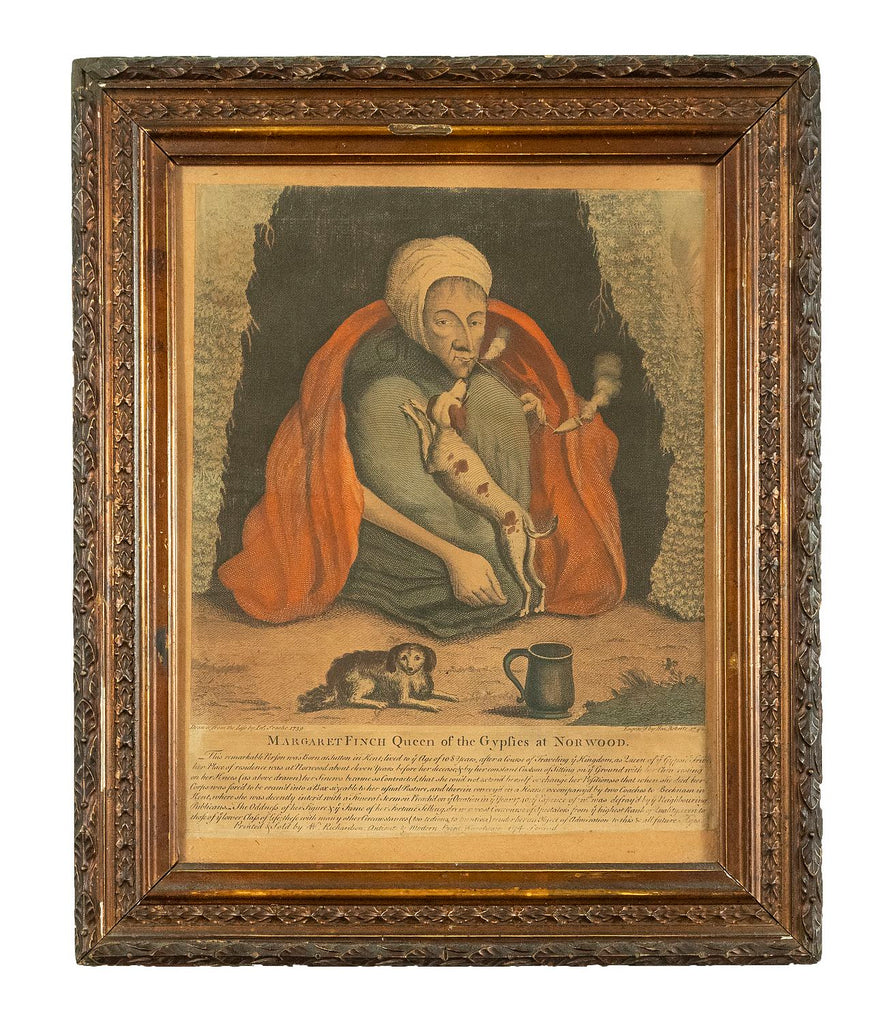 London: Henry Roberts. 1742.

Engraved, hand-coloured portrait of Margaret Finch after a 1739 drawing by John Straeho. Print measures 270x215mm. Mounted and framed in a Victorian decorated frame (380x313mm). The portrait shows Margaret Finch sitting on the ground, her legs drawn up to her chest and her chin resting on her knees. She is accompanied by her dogs and is smoking two pipes. Beneath the image is printed a brief biography of "this remarkable person".
Margaret Finch was born at Sutton, south London in about 1640 and spent a life "Traveling ye Kingdom, as Queen of ye Gypsie Tribe". Towards the end of her life she settled in Norwood, then wild, rural and a major gathering point for gypsies (hence Gypsy Hill). She lived in a  hut built of branches at the base of a large tree. She was 108 when she died and had spent so much time sitting in the crouching position shown in this portrait that a special coffin had to be made as her body could not be straightened out. The cost of her lavish funeral was met by local publicans grateful to her for having attracted a stream of visitors to the area. "The Oddness of her Figure and ye Fame of her Fortune Telling, drew a vast Concourse of Spectators from ye highest Rank of Quality, even to those of ye lower Class of Life". A celebrity gypsy. Her genealogical links to the Earls of Nottingham and Aylesford are unrecorded.