Philosophical and critical inquiries concerning Christianity. (Translated by John Lewis Boissier, Esq.)
BONNET, Charles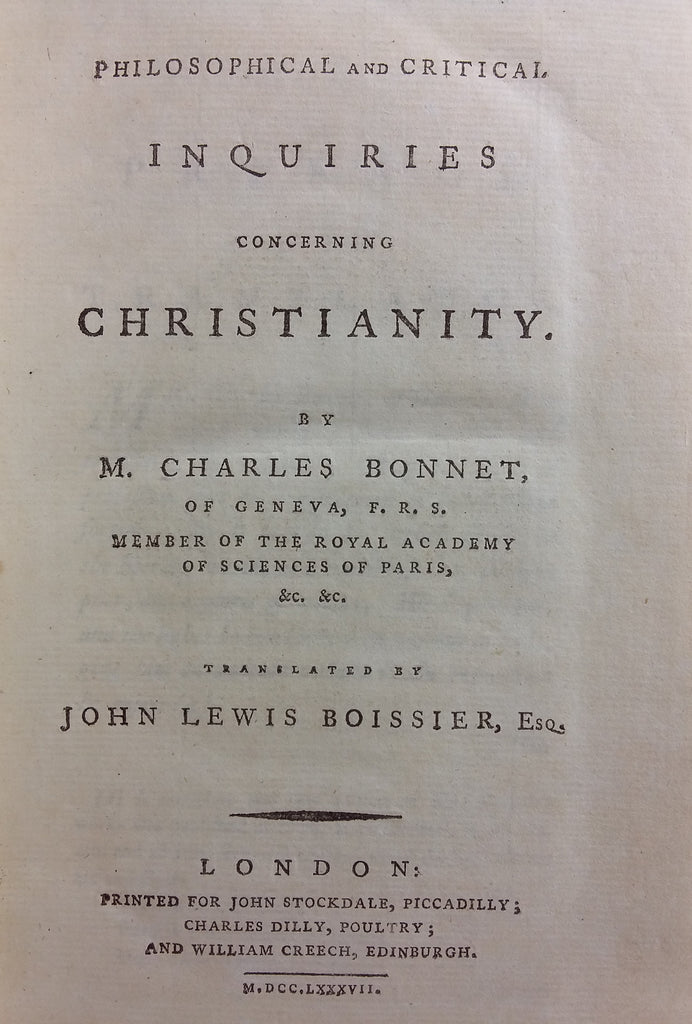 London: Printed for John Stockdale, Charles Dilly and William Creech. 1787.

First edition of the English translation. 8vo (210x125mm). pp. xx, 298, [2] advertisements. Engraved frontispiece by Charles Shervin. Early manuscript inscription of ownership on second free endpaper. Full tree-calf, decorated with gilt edges, spine with gilt bands and burgundy morocco label with gilt lettering. Extremities slightly rubbed, but otherwise a fine crisp copy.
Bonnet's philosophical defence of Christianity was originally articulated in his "La palingénésie philosophique, ou idées sur l'état passé et sur l'état futur des êtres vivans" (1769) and "Recherches philosophique sur les preuves du christianisme" (1770). Bonnet's early work on insect reproduction, in particular, his discovery of parthenogenesis and the reconstitution of earthworms, led him to argue that science supported the biblical accounts of miracles and resurrection. Miracles, and the evidence for them, are a central theme of this work, which also looks at the problems of proving religious revelation. He concluded that to deny the bases of Christianity was contrary to "the clearest principles and rules of found logic". A second edition was published in 1791.