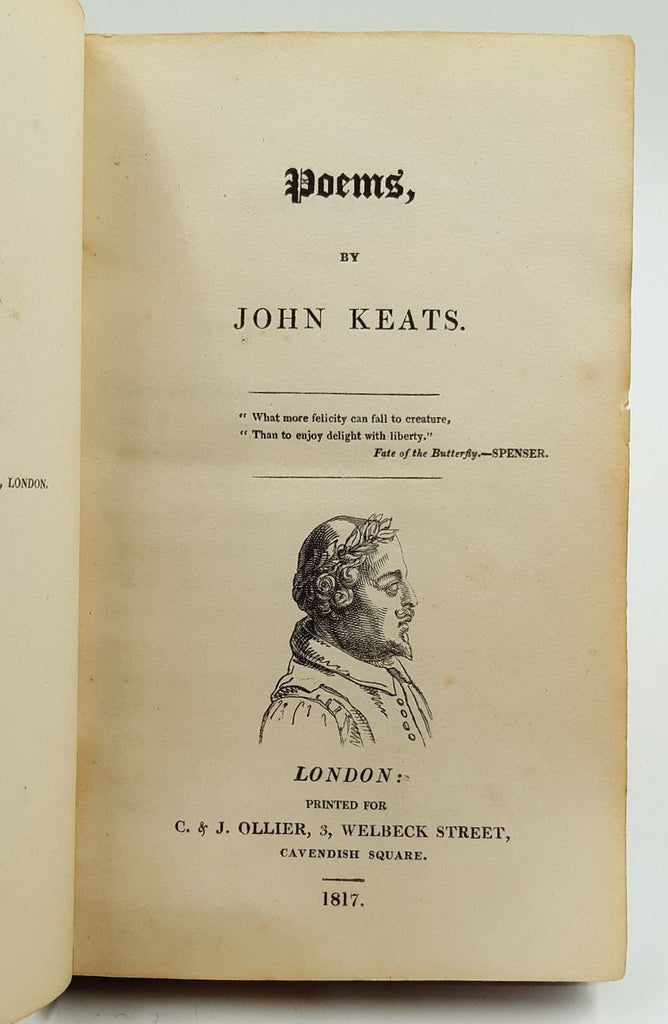 London: C&J Ollier. 1817.

First edition. 8vo in 4s. (158x97mm). pp. [6], 121. Contemporary half calf, marbled paper covered boards, recently and expertly repaired by Aquarius, rebacked to style with gilt floral decoration and red label lettered in gilt. Original binder's ticket of G.Cannon of Great Marlow on front pastedown. Tiny chip to fore-edge of title page and dedication leaf (A3-4) and small repaired closed tear to B1 which has also been slightly cropped but otherwise internally very good. A handsome copy of a Keats's first book. Verso of the front free endpaper is inscribed A.M.B from H.H.M.B., June 29th 1897, Great Malvern. These are the brothers Arthur Middlemore Bartleet and Hubert Humphrey Middlemore Bartleet. Hubert was vicar of Great Malvern. His son Robert befriended Evelyn Waugh when Waugh was living in Malvern learning to ride at Captain Hance's Riding Academy and getting to know the Lygons at Madresfield. Robert had contributed accomplished drawings to Hance's book "School for Horse and Rider".
In early October 1816, Keats visited his friend Cowden Clarke to view his copy of George Chapman's translation of Homer. The two young men sat up all night reading to each other before Keats returned home to write a sonnet which he entitled "On the first looking into Chapman's Homer". Five months later it would appear in print in Keats's first volume, Poems, published on 3rd March 1817. The book was not a success. Only six reviews appeared, three by friends of Keats. The others were unenthusiastic. Few copies sold and the publishers wrote to Keats's brother expressing regret at ever having published the work. Cowden Clarke thought that "the book might have emerged in Timbuctoo".
Knowing that Poems was a commercial and critical failure, some modern readers find themselves caught in a confirmation bias and tend to dismiss the collection as immature, rushed, and derivative of his friend Leigh Hunt's weak sentimentalising verse. But, in fact, Poems shows Keats emerging fully formed from the influences that had been working on him in the previous years when he was training as a surgeon while simultaneously developing and refining his poetic sensibilities.
Keats's view of himself as a poet is laid out before we even arrive at the first poem: the title page has a wood engraved portrait of Edmund Spenser whose Faerie Queene "shocked Keats suddenly into self-awareness of his own powers of imagination".
The book's epigram, "What more felicity can fall to creature,/Than to enjoy delight with liberty", taken from Spenser's "Fate of the Butterfly", introduces us to the Romantic, free spirit that defined Keats's career as a poet. And the collection is saturated with the Wordsworthian love of nature that runs throughout his work.
Keats's sense of his own development as a poet is clear from the final lines of the last poem in the book "Sleep and Poetry" where the poet is visited by the "face of Poesy" who inspires "thought after thought". On rising in the morning, Keats resolves "to begin that very day/These lines; and howsoever they be done,/I leave them as a father does his son."
Keats's life was famously brief: only two further collections of poems appeared before his death in 1821. In this, his first book, we encounter Keats honouring his debts to Spenser, Wordsworth and Homer but, in the end, coming to maturity and self-consciousness as a poet on his own terms. The seeds of his brilliance were already flowering.