Popular History of Freemasonry. A Manuscript in Five Volumes
PRATT, Alfred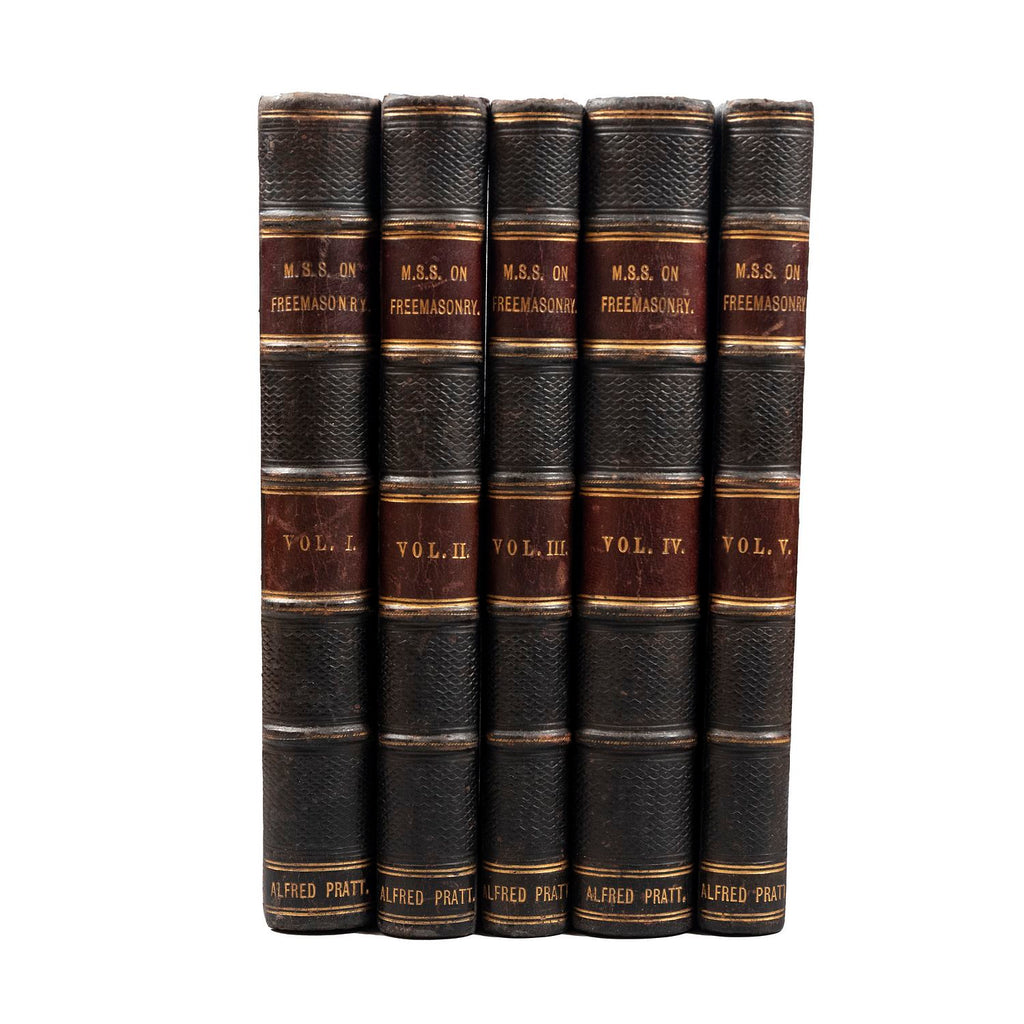 n.p. n.p.. c1880.

An unpublished manuscript in five volumes on the history of Freemasonry written by an English Freemason in the late nineteenth century. Five volumes. 221x148mm. Written in a neat italic hand on the verso only with some notes, additions and amendments on the page opposite (the recto of the previous leaf). Each leaf is numbered. Vol. I, ll. [2], [5bl], 1-118, 117-209; Vol. II, [4], [4bl], 221; Vol. III, [4], [4bl], 184. The last four leaves (8pp recto and verso) have two newspaper reports pasted down. These are reports of the Quarterly Communication of Grand Lodge of English Freemasons dated 5th December 1877 and 6th March 1878. Vol. IV, [4], [5bl], 266; Vol. V, [3], [4bl], 160.

Black half calf, buckram covered boards. Spine with five raised bands, four compartments with diced calf. Lettered in gilt, author's name, "Alfred Pratt" lettered in gilt at foot of spine. Some slight scuffing to upper cover of volume five. Internally fine with very slight foxing in places. Front pastedowns have the small binder's ticket "Bound by Corner, Wellington".
This is a fascinating and unique book, demonstrating an extraordinary devotion to Freemasonry and its history. The author's aim, stated in the introductory prospectus, is to provide the (non-Masonic) general public with a book in which they can "lay hold of the whole of a doctrine, the influence that it has exercised upon civilisation, the progress that it has realised and the destiny that it is promised in the future". Alfred Pratt's study begins with the origins of Freemasonry in India and Egypt, before taking us through Moses and Solomon, classical Greece and Rome and into the modern world. Its range and ambition are enormous. Although the book is plainly written with an audience in mind, there is no trace of its having been published and it is unclear whether the book was ever intended for publication. 
We have been able to piece together some of Alfred Pratt's biography with help from some of his family and from what we have found Masonic journals and newspapers. It is a good story and shows Pratt to be an enthusiastic amateur author.  
He was born in 1815. His family home was in Surrey and his father was a doorman at the House of Commons. Alfred began his working life in the Merchant Navy and he kept a diary in 1836 recounting a voyage from Calcutta to London. In 1837, he was working for Brunel surveying bridges between Maidenhead and London. In 1854, he joined the War Office where he was described as "practical engineer" and went to Crimea where he supervised the transport and storage of support materials for British Army at Balaclava although it seems that much of his advice was ignored by the authorities. After the war he wrote a book (never published) entitled "Russia in the Crimea". 
On 1st January 1854, he began a project to copy out the whole of the Bible. This took twelve years and the ten volumes are in the possession of the family.  
It is probable that he was a freemason during these early years but the first public record his masonic life is in 1856 when, as a 41 year-old customs officer he joined the Neptune Masonic Lodge No. 22 in the City of London of which he remained a member until his death. He was also a member of Royal Union Lodge No. 536 where he is described, in the Freemason's Magazine, as "one of Bro. Muggeridge's most able pupils". He resigned his membership of this lodge in 1860 and joined Lodge of Amity No 171 in 1870. He was also a governor of the Royal Masonic Institute for Boys. Lastly, we find Alfred in Wellington, Somerset (whence the binding), where, in 1882, he was one of the founder members (and the first secretary) of the Lodge of Fidelity and Sincerity No. 1966. It seems that he moved to Somerset from London and worked on this book in his rural retirement in the early 1880s before dying in 1888 after a full and active life steeped in Freemasonry.