Programme and Souvenir. The Football Association's English Cup Competition Final to be played at the Empire Stadium on April 28, 1923 between Bolton Wanderers and West Ham United.
FA CUP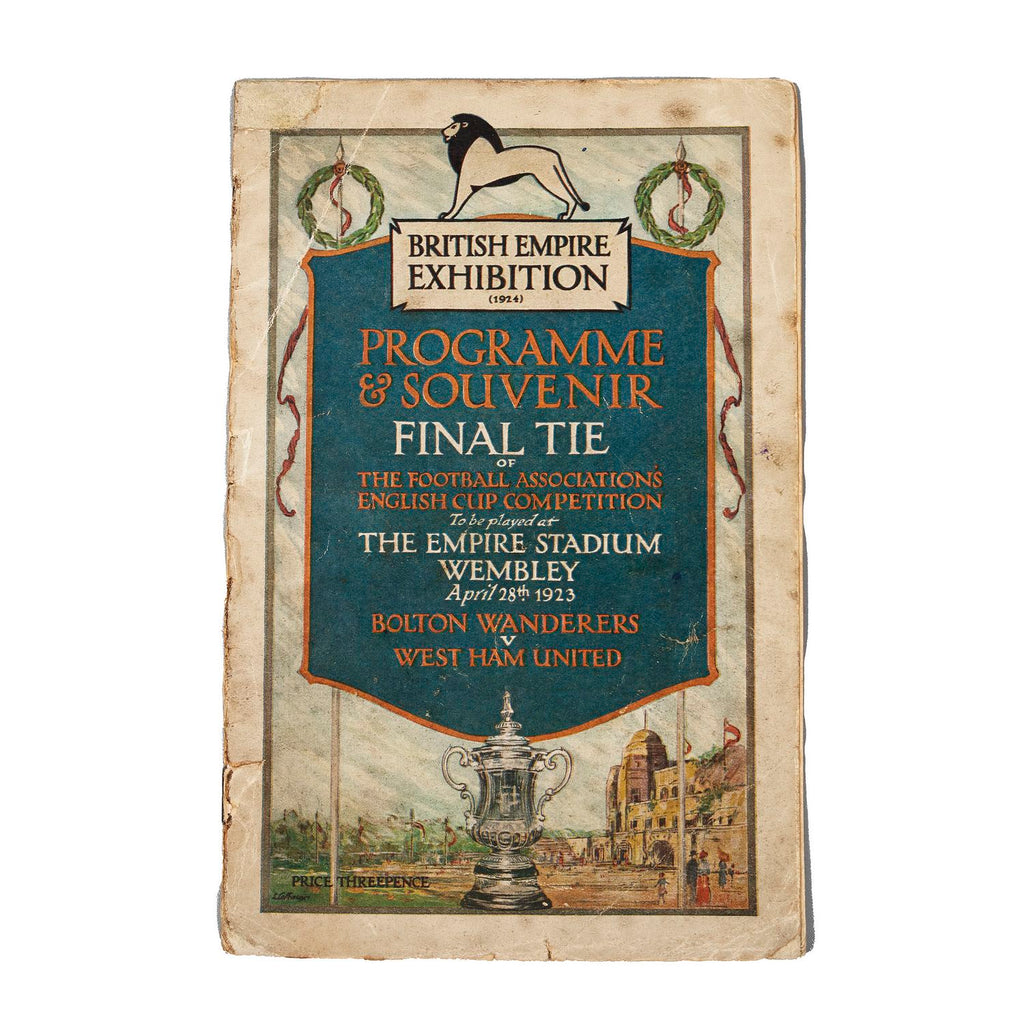 London: W.H.Smith and Son, The Arden Press. 1923.

185x120mm. 24pp., in illustrated paper wrappers, secured by two staples. Marking and creases and two, tiny closed tears to the wrappers which have had some recent repair to the spine. Browning and foxing to some of the leaves but overall a very good copy. The programme contains a history of the FA Cup, information about the two teams (both played 2-3-5) and the players and a section on the new Empire Stadium, "the largest in the world...In area it equals the Biblical city, Jericho". Advertisements throughout, many for cigarettes, sport and smoking being natural companions. A splendid souvenir in very good condition of one of the most famous FA Cups and the first sporting event to be held at the new stadium built at Wembley as part of the 1924 British Empire Exhibition.
The 1923 FA Cup Final transcends football. It has its own nickname: "The White Horse Final"; it was attended by so many spectators that the start of the match was delayed, causing questions to be asked in the House of Commons; and it represents one of the first major popular expressions of renewed national confidence after the end of the First World War. The first three FA Cup finals played after the War had been poorly attended, drab affairs at Stamford Bridge. The 1923 Final marked a new era. The Stadium  was built for the British Empire Exhibition which was intended to revive a faltering and tired Empire, but, in retrospect marked no more than a lavish staging post on its path to decline and disintegration. But as a symbol of popular culture expressed through the sport of the working class, the new stadium was a triumph. 300,000 people turned up at the match (more than double the stadium's capacity of 125,000) spilling onto the pitch before kick-off. Extra police were called, most famously one on a white (actually, grey) horse called Billie. Images of the white horse surrounded by good-natured fans are more famous than those of the match. Eventually the crowd sang "God Save the King" (George V was present to hand over the Trophy) and cleared the pitch. For the record, the Trotters beat the Hammers 2-0, the West Ham manager blaming Billie for churning up the pitch.