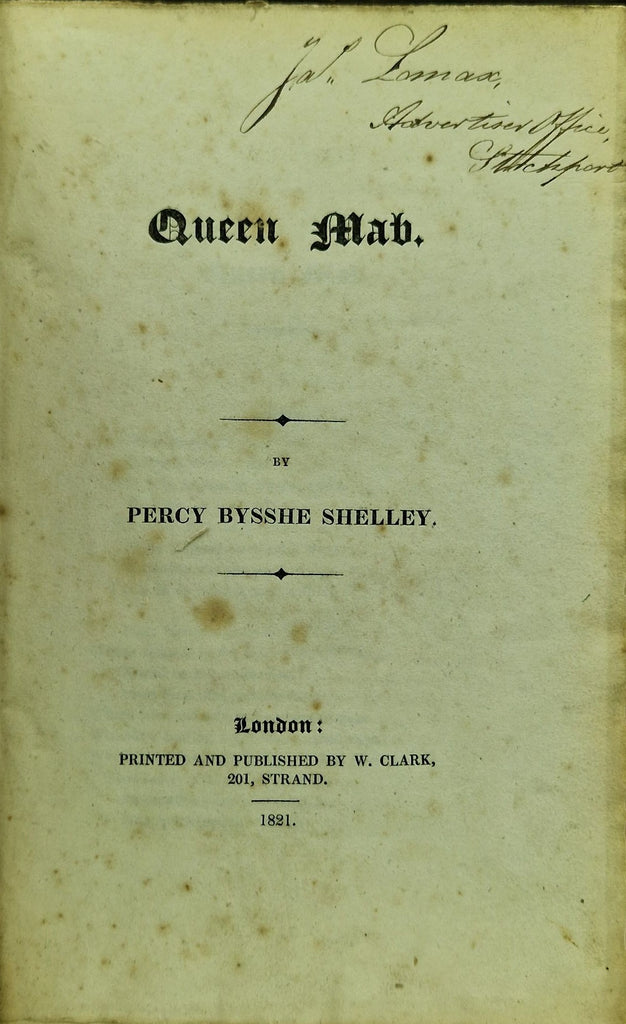 London: W. Clark. 1821.

8vo. 230x140mm. pp. 182, [2]. First published, albeit pirate, edition, printed by William Clark assisted by the book pirate Thomas Moses whose "T.M." monogram appears below Clark's imprint on the final page of the text. Original drab boards, backed with green cloth, remains of paper label on joints. Corners worn and edges a little rubbed, boards marked in places. Hinges cracked with some loosening. Slightly foxed but otherwise very good internally. Front pastedown has booklabel of Christopher Clark Geest.
First published in a small edition with a dedication to Harriet in 1813, Queen Mab was then printed twice, without Shelley's permission, in 1821. This copy is the version with the notes printed in full and with the dedication removed. It also has the final advertising leaf and some (intentionally) missing words on pp146-148. A scandalous work, published scandalously, "pounced upon" by the Society for the Prevention of Vice and resulting in the imprisonment of Clark the printer and bookseller. It also led to Shelley's radical ideas (on subjects including vegetarianism and atheism) being openly discussed in the public forum. Always dangerous.