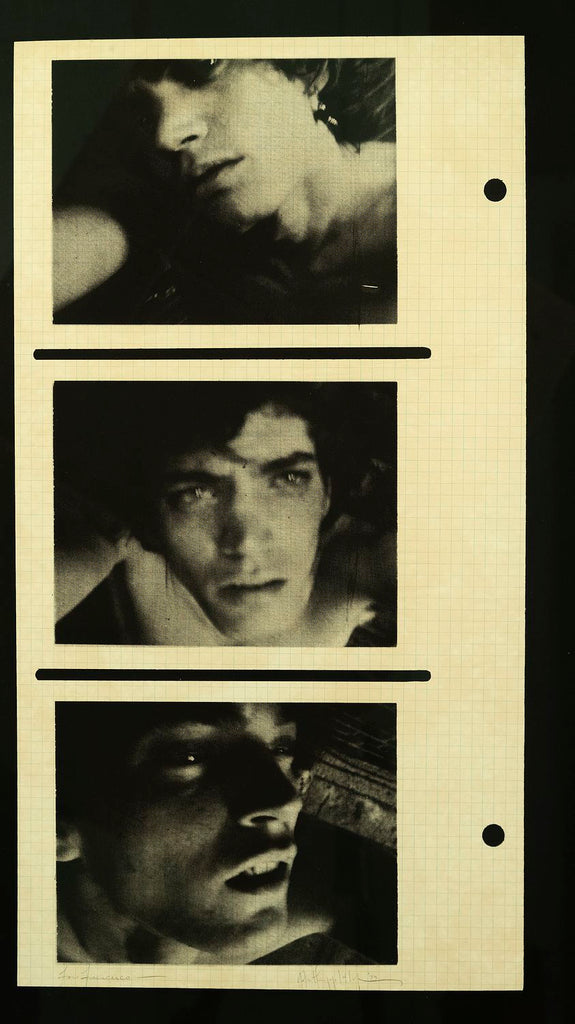 1972.
Photo silkscreen on graph paper (900x735mm). Inscribed in pencil in the bottom margin "For Francesco - [Signed] Robert Mapplethorpe '73".

An early work from an important stage in the development of Mapplethorpe's career. When he graduated from the Pratt Institute, Brooklyn in 1969, Mapplethorpe was making mixed-media collages using images torn from magazines. In 1971, he befriended John McKendry, curator of photographs at the Metropolitan Museum of Art, New York. McKendry allowed Mapplethorpe access to the Museum's photography archives and later that year gave him his first Polaroid camera. Mapplethorpe initially used this camera to make material for use in his assemblages but he quickly began making self-portraits and exploring the possibilities photography offered as a medium in its own right, particularly after he met Sam Wagstaff in 1972. Wagstaff probably did more than anyone to ensure that photography began to be taken seriously as an art form in America. This triptych of self-portraits by Mapplethorpe makes explicit that link between photography and high art that Wagstaff was so keen to promote. The title itself is a reference medieval religious art, specifically altarpieces and Mapplethorpe's extraordinary range of emotions captured in only three images, suggests the psychological depth of the greatest paintings. This is art photography of profound power.

Francesco, to whom this work was given, is Francesco Scavullo, the fashion and portrait photographer whom Mapplethorpe would almost certainly have met through the grand and well-connected McKendry and Wagstaff. Scavullo shot the celebrated double portrait of Mapplethorpe standing behind Wagstaff with his arms around his shoulders. Scavullo owned this example of Triptych until his death and it came from his estate. There is some light foxing to the outer margins of the graph paper.