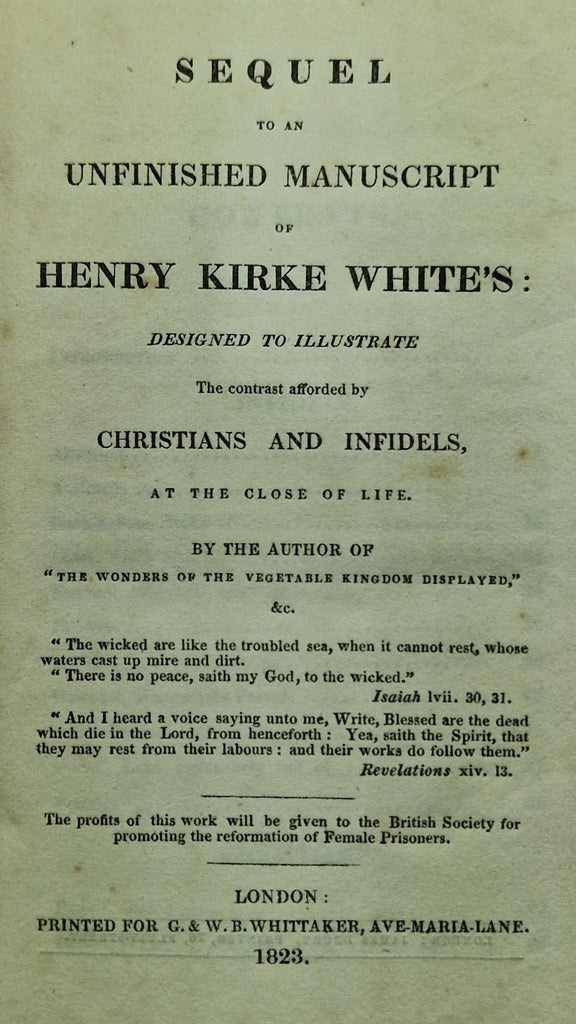 London: Printed for G. & W.B.Whittaker. 1823.

12mo. 180x105mm. pp. xv, [3], 144, [121]-142. This eccentric pagination is noted in the errata. Original grey paper covered boards, original label to spine. Tear to head of spine, rubbing to joints and corners of boards. Internally very good, a few pencil underlinings and marginal annotations and some pages unopened and overall a nice copy of a rare work located by Worldcat in seven UK libraries and none in the US.
Henry Kirke White had ambitions to enter the sacred ministry and spent a year studying with a priest in Lincolnshire before entering Cambridge. Southey said of him that never was there a "devouter christian" and that "of his fervent piety, his letters, his prayers, and his hymns, will afford ample and interesting proofs". As will this curious little collection of pen portraits of historical figures and their differing attitudes to death. Kirke White divides the world into "Infidels" and "Christians". An infidel such as Hobbes was terrified of death, lived to the age of ninety and wanted "to find a hole to creep out of the world at". By contrast the Christian Locke regarded life as "mere vanity" and "his death was truly pious, yet natural, easy, and unaffected". Plagued by ill health, it is unsurprising that Kirke White should have been so exercised by thoughts of how to die well.