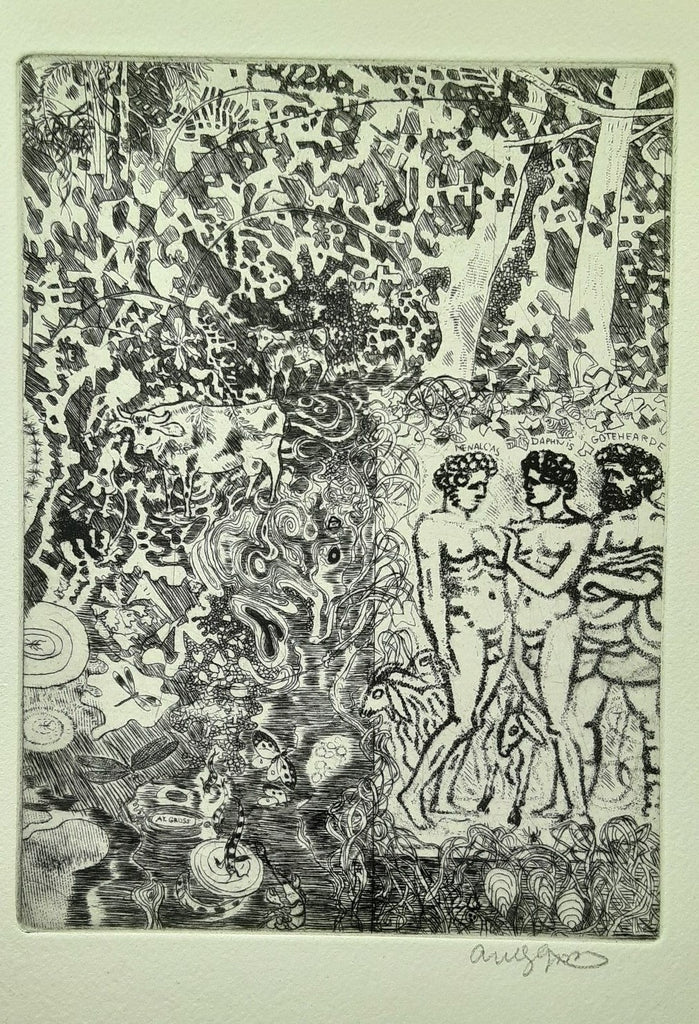 New York: Clover Hill Editions and Chilmark Press. 1971.

Limited edition. XXI of 135 copies numbered I-CXXXV, signed by Anthony Gross and containing a set of signed prints in final state. 330x240mm. pp. xv, [3], 54, [2]. Illustrated with eight etchings by Anthony Gross. Designed and printed by Will and Sebastian Carter at the Rampant Lion's Press, Cambridge. Brown quarter morocco, beige cloth. Line drawing of a bull's head in gilt to upper cover, spine lettered in gilt, top edge gilt. Issued loose in a separate box is another, signed set of these etchings. Box is brown quarter morocco with marbled paper. Both volumes are housed in a slipcase covered with brown paper and head and foot with brown buckram. The whole is in superb condition throughout. Loosely inserted is the Clover Hill Prospectus for The Story of Cupid and Psyche and a manuscript letter from Douglas Cleverdon to the previous owner of this copy of the Theocritus. Cleverdon established Clover Hill Editions with Will Carter. Before this, he was a bookseller in Bristol and a producer for the BBC where he made programmes with Stevie Smith, Ted Hughes, Sylvia Plath and, most famously, Dylan Thomas, producing the premier of Under Milk Wood.
A beautiful copy of this 1971 reissue of the 1588 edition of Sixe Idillia printed in Oxford. Anthony Gross (1905-1984) was a painter and printmaker. He is "best known for his etchings, which are characterised by dense decorative line and texture, often achieved by the use of unconventional printmaking tools". (V&A website). This style is perfectly suited to the heated and claustrophobic Arcadian world of Theocritus's Idylls with its tortured lovers, wild animals and wilder monsters.