Songs of Innocence and Experience with other poems by W. Blake
BLAKE, W.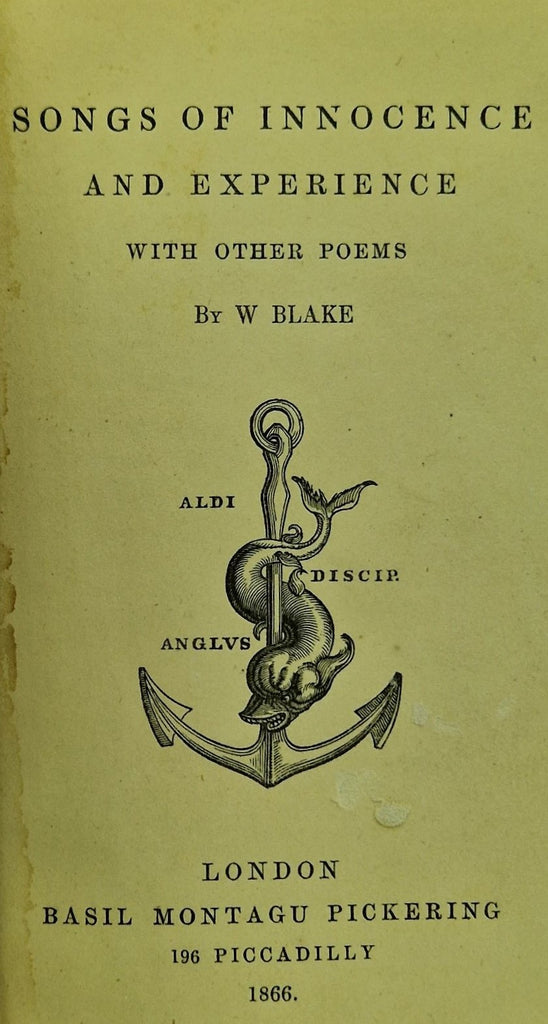 London: Basil Montagu Pickering. 1866.

First edition thus. 8vo in 4s. 172x105mm. pp. xii, 108. Original brown cloth, paper label to spine. Joint with upper cover split, corners and label worn. Internally very good. Front free endpaper is inscribed "Frances Marten 1867, from H.C.R." On the front pastedown opposite is pasted a photograph of "H.C.R." who is Henry Crabb Robinson. The front free endpaper also has the book label of Priscilla and Samuel Meek. This reprint of Songs of Innocence and Experience contains two previously unpublished Blake poems. Two of the other poems were Bowdlerised and have lines replaced with asterisks to spare Victorian sensibilities.
Henry Crabb Robinson (1775-1867), a lawyer, journalist, diarist and a co-founder of London University, has been described as one of the best connected of literary men. He "knew almost every British writer of note from Blake, Wordsworth, Coleridge, Lamb, Southey, and Hazlitt to Gaskell, George Eliot and Matthew Arnold". Crabb Robinson's friendship with the elderly Blake was short (they met in 1825 and Blake died in 1827) but, unsurprisingly, the shamanic artist and poet made an enormous impression. In his Diary, Letters, and Reminiscences. Crabb Robinson's describes his first meeting with Blake: "Shall I call him Artist or Genius—or Mystic—or Madman? Probably he is all. He has a most interesting appearance. He is now old—pale with a Socratic countenance, and an expression of great sweetness, but bordering on weakness—except when his features are animated by expression, and then he has an air of inspiration about him. The conversation was on art, and on poetry, and on religion". Crabb Robinson himself was an old man when this book was published which makes the gift all the more moving as he would have been one of the few people alive to have remembered Blake.