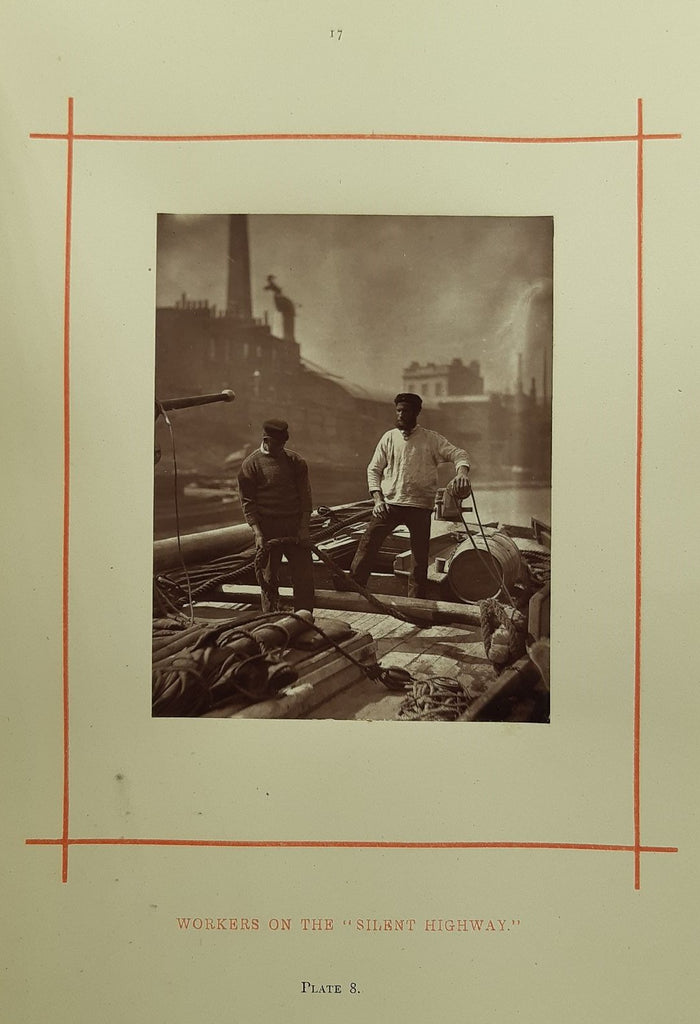 London: Sampson Low, Marston, Searle, & Rivington. 1881.

First edition. 4to. 278x215mm. pp. 100. Text from p.45-100 following twenty-one monotone Woodburytypes printed from Thomson's original glass plates. Each image is framed with a red line border and the title printed in red. The text (which follows the photographs) consists of a commentary and description of the images. Original green pictorial cloth with gilt title and decoration in blind with two figures in gilt. Floral endpapers (lacking front free endpaper). Hinges cracked but holding, corners a little worn, bumping and slight creasing to head and foot of spine. Browning to title page and occasional marks not affecting the photographs which are very well preserved. The margins of two of the plates have handwritten notes in pencil identifying the location of the image. A nice copy of an important book.
Street Incidents is a pioneering work of photojournalism which brought into the public eye many of London's marginal and impoverished characters who lived and worked on the streets. Thomson had made his name photographing China and the Far East in the 1860s. In the 1870s he turned his attention to London where, with the left-wing Anglo-French journalist Adolphe Smith, he produced the monthly magazine Street Life in London. Smith took part in the Paris Commune of 1871, played a leading role in the formation of the Trade Union movement and popularised the singing of The Red Flag to the tune of O Tannenbaum. Although Thomson's photographs are a wonderfully vivid, it is Smith's accompanying essays with their wealth of journalistic detail that bring the lives of London's poor into three dimensions and turn the images into more radical campaigning documents.