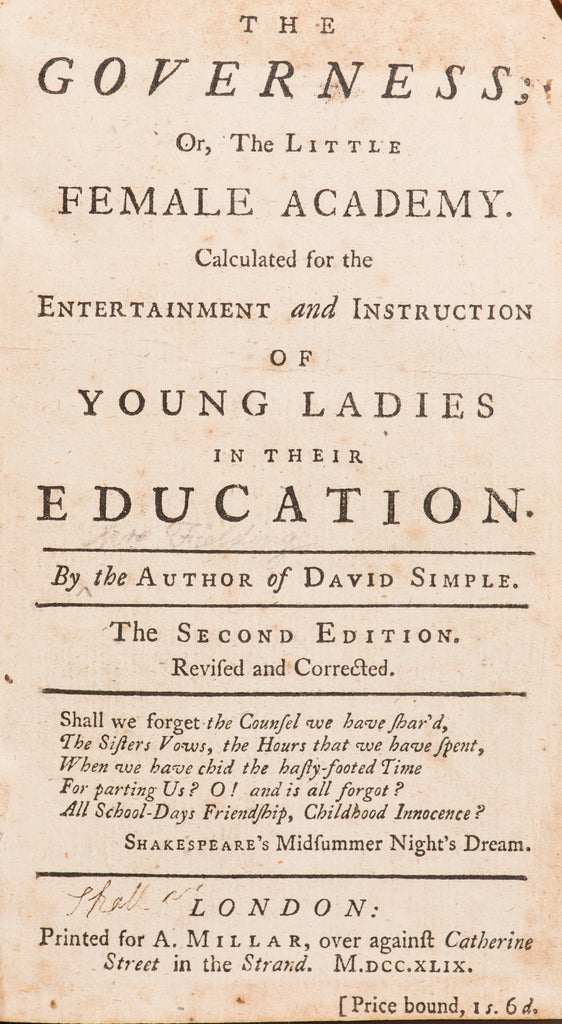 London: Printed for A. Millar. 1749.

Second edition, revised and corrected. 12mo. 155x90mm. pp. x, 146. Contemporary calf, spine with four raised bands, compartments decorated in gilt, second compartment with red morocco label lettered in gilt. Corners slightly bumped, small hole to joint at foot of spine, a few marks to covers. Small tear to margin of B2 not affecting text. Slightly cropped (when the book was bound) but text unaffected. Otherwise, internally very good Front free endpaper has ownership inscription of Miss R. Assheton in a beautiful copperplate hand. A nice copy of a scarce book, this revised second edition, intended "for the use of schools" appearing in the same year as the first.
The Governess is a collection of stories all taking place in a school run by the nominatively determined Miss Teachum. The British Library describes it as "perhaps the first school story" and it is important in being one of the earliest fictional works for children, earlier books for the young tending towards the instructional rather than the entertaining. That said, the author's preface indicates that the "design of the following sheets is to endeavour to cultivate an early Inclination to Benevolence, and a Love of Virtue, in the Minds of Young Women". Sarah Fielding (she writes anonymously) was the sister of Henry Fielding. In addition to The Governess, she wrote three novels and works of history, all of which display an interest in women's social issues. She also wrote a study of Samuel Richardson's Clarissa. Richardson was Sarah's mentor and rated her highly, claiming that she was a better writer than her brother. And, although genteelly educated, she was widely regarded as a better classicist than the expensively schooled Henry. ESTC records only three copies of this edition in the UK (and the same again of the first) with six in the US (where there are eleven copies of the first). Only six copies of the two 1749 editions have appeared at auction in the last eighty years.