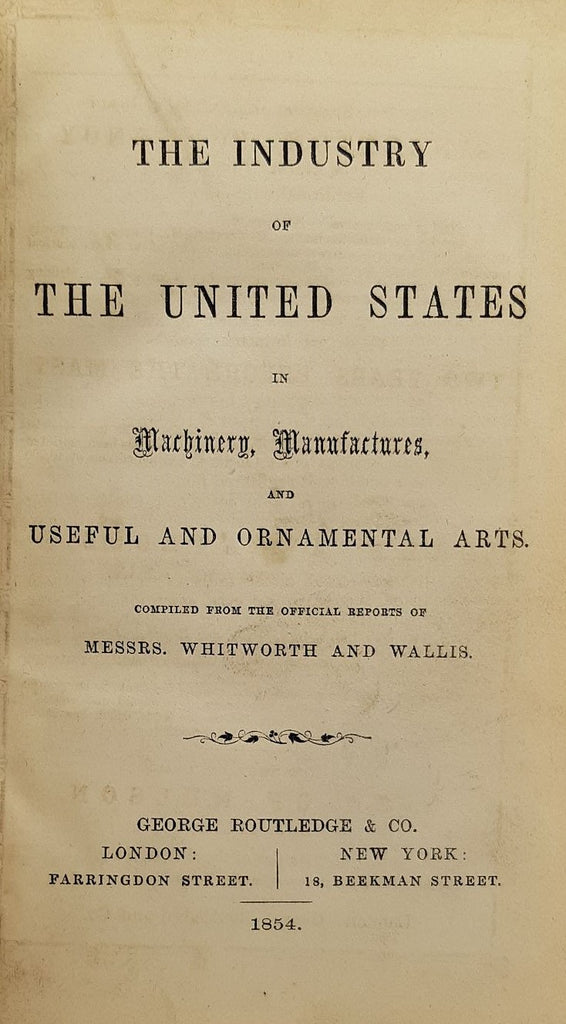 London and New York: George Routledge & Co.. 1854.

First edition. 8vo. 159x95mm. pp. xx, 172. Blue-green bubble grained cloth, tan calf backstrip lettered in gilt with a gilt double fillet border. Backstrip damaged with loss of 40mm. Slight bumping to corners. Internally very good save for staining on pp62-63. Library label of The Institution of Civil Engineers on front pastedown and front free endpaper has inscription "Science Museum" in blue biro. Library stamp on the verso of the title page and on the final page. Rare in commerce.
This book is the result of the tour of the United States made by Joseph Whitworth and George Wallis in 1853. They had been appointed British Commissioners for the New York International Exhibition and were also instructed to investigate the development of industry, manufacturing and the applied arts in America. They covered 5000 miles visiting factories and schools of design. The book contains chapters on the production of all types of everything from wheels for trains to ploughs to buttons. There are chapters on the manufacturing of textiles and on art education. It is essentially a civil servant's report but it provides a fascinating picture of the state and extent of American manufacturing industry in the mid-nineteenth century.
Sir Joseph Whitworth was an engineer and inventor. He is perhaps best known now as the creator of the standard measurement for screw threads and the inventor of the Whitworth rifle. He also worked on the manufacture of Charles Babbage's calculating machine. George Wallis was an artist and teacher who was the first keeper of the Fine Art Collection at what is now the V&A. He was a deputy commissioner for the Great Exhibition of 1851 following the success of which he was he was sent to America with Whitworth.