The Life and Extraordinary Adventures, the Perils and Critical Escapes of Timothy Ginnadrake, that Child of checquer'd Fortune. In Three Volumes.
[FLEMING, Francis]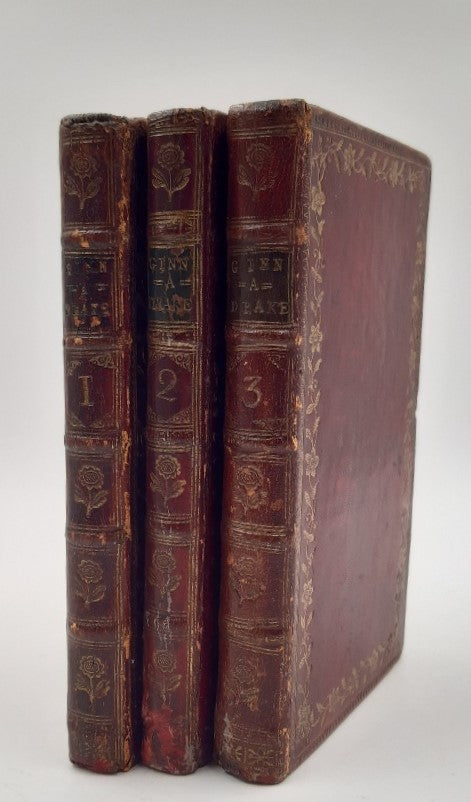 The Third Volume of the Life and Adventures of Timothy Ginnadrake, containing a concise account of the City of Bath, From the Year 1670 to the Present Time. 
Bath: Printed by R. Cruttwell, for the author. n.d. but volume 3 is dated 1771.

First edition. Three volumes. 12mo in 6s (166x90mm). pp. [xvi], iii-xviii, 168; 204; xiv, 15-240, [12, list of subscribers]. Engraved frontispiece portraits to volumes one and two. List of subscribers at beginning of volume one and at the end of volume three. Armorial bookplate of William John Mercer to front pastedowns. Also, a contemporary ownership inscription of "W. Murray". Contemporary red morocco with flower and leaf border in gilt. Spine compartments decorated with flower design. Labels lettered in gilt. Gilt gauffered edges. Bumping to feet of spines, with the foot of volume two repaired. Wear and bumping to corners. Lower cover of volume three has black ink stains. A very nice contemporary binding. Internally excellent. Apart from some staining to two leaves in volume one and one small hole affecting one word in the list of subscribers, this is a very good set. Scarce in commerce. ESTC locates twelve copies.
Although published anonymously, it is clear that this little known picaresque novel of life set mainly in eighteenth century Bath could only have been written by an insider. Francis Fleming was the leader of the Pump Room orchestra and so witnessed the fashionable frolics and frivolities of his audience. The hero is a violinist in Bath, which suggests that the Adventures, Perils and Critical Escapes of Timothy Ginnadrake  (which take place in England, Ireland and France) are also those of Fleming. He was originally from Ireland and his business partner was Anne Roland, a French dancing instructor with whom Fleming ran the chicest dancing school in Bath. They travelled to France together each year to learn the latest steps. A scathing contemporary review of Fleming's novel suggested that he was a poor man's Henry Fielding, "that consummate biographer in low life". The reviewer claims that Fleming's "chief design seems to have been that of making us laugh innocently, at least, if not profitably...if we at all indulge our risibility, it is more on account of the whimsical situations in which we sometimes find his hero than on any other". (The Critical Review or Annals of Literature, volume 34, 1772). The third volume meets with more approval. This is a history of Bath from 1670, describing how the town was rescued from its position as one of the poorest in England by John Nash of whom Fleming says, "his polite behaviour and goodness of heart soon gained him the esteem of the gentry who resorted to Bath". It is a slight mystery why Timothy Ginnadrake isn't better known. Georgian Bath has been a constant source of interest and although one cannot pretend that Fleming is a writer of the first rank, he tells his stories, both factual and fictional, with verve and wit and with more than a nod to the ridiculousness and savagery of fashionable society.