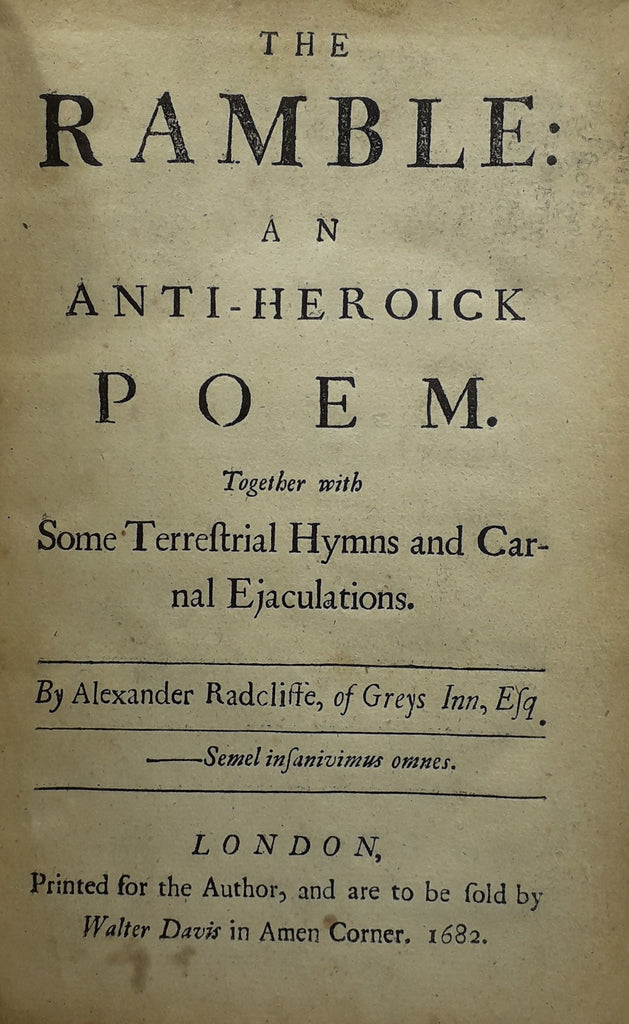 London: Printed for the Author, and are to be sold by Walter Davis in Amen Corner. 1682.

First edition. 8vo (175x114mm). pp. 128 (including initial blank A1). Contemporary black morocco, covers panelled in gilt, spine richly gilt in compartments, marbled pastedowns, all edges gilt. The Heber (?) - Britwell - Hayward - Bradley Martin - Edwards copy, with modern bookplates of H. Bradley Martin and J.O. Edwards. Lightly rubbed with some wear to corners, a little marginal browning, still a fine copy.
Alexander Radcliffe trained in law but deserted his studies to become a soldier, reaching the rank of captain before turning to writing bawdy verse in the tradition of the poetic rake established by the 1680 edition of Rochester's Poems on Several Occasions. The title poem here, Radcliffe's best known work, starts with a knock at the door which the author is in bed with a whore. He embarks on a nightmarish low-life ramble through Restoration London, visiting theatres, gambling dens and coffee houses before returning to his bed to be sick. The other thirty four poems here include translations from Horace; 'Upon Mr Bennet, Procurer Extraordinary'; 'What are you mad?'; 'The Poor Whore's Song', and many others.