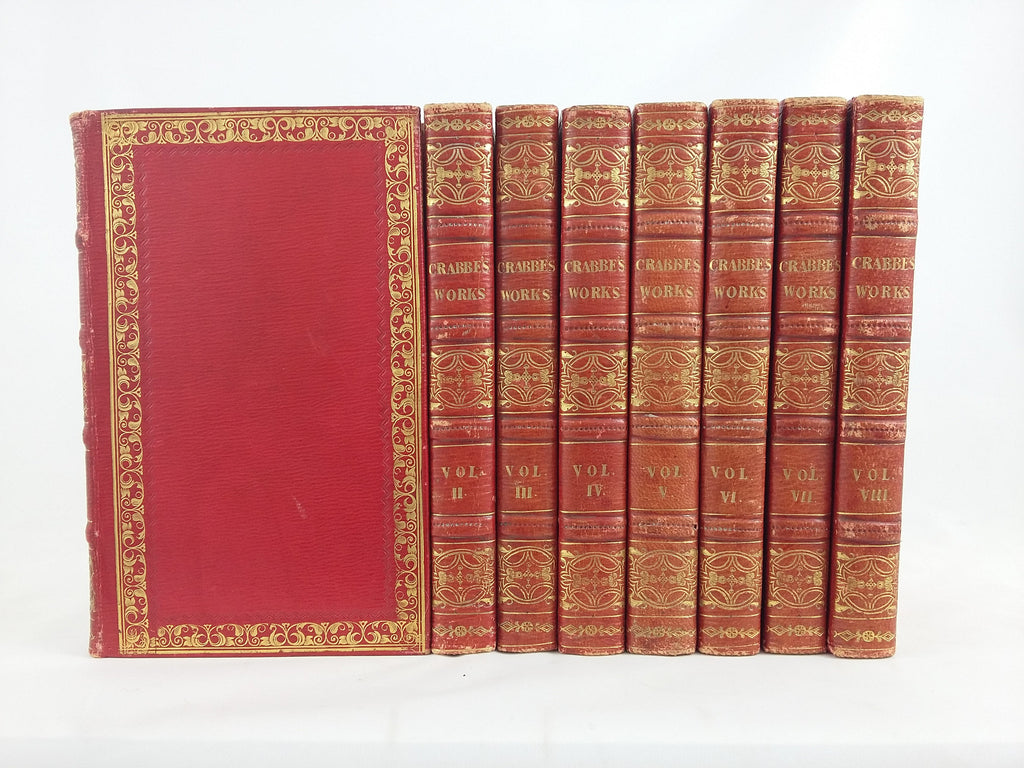 London: John Murray. 1823.

Reprint of the 1822 edition edited by Crabbe himself. A very nice set in contemporary straight-grained red morocco. Front and rear boards with fine gilt dentelles. Inside dentelles. Spines with four raised bands with gilt lettering and decoration. One area of marking on vol. vi. Text is in excellent condition and overall this is a lovely set. FIne. 
Vol. I. Poems; Vol. II and III. The Borough; Vols. IV and V. Tales; Vols VI-VIII. Tales of the Hall.

One does not meet much Crabbe today, save for his poem 'The Borough' which inspired a 29-year-old Benjamin Britten with its tale of brutal fisherman Peter Grimes to return to England, and Suffolk (where Crabbe, too, was born and raised). Such an occasional, vicarious encounter does little justice to the fame Crabbe enjoyed in his lifetime. A friend of Burke, and later Scott (who called him the 'English Juvenal' in Waverley), Crabbe was a poet whose realism, 'preceding even Cowper and anticipating Wordsworth, was the first important indication of one characteristic movement in the contemporary school of poetry' (DNB). Byron thought him 'though nature's sternest painter, yet the best'. 'Wordsworth said that the poems would last as long as anything written in verse since their first appearance. Miss Austen said that she could fancy being Mrs Crabbe. Jeffrey reviewed him admiringly, and in later years Edward FitzGerald, the translator of 'Omar Khayyám,' wrote an admiring preface to a selection in which he says that Lord Tennyson appreciates them equally with himself. Cardinal Newman speaks of the "extreme delight" with which he read "Tales of the Hall" on their appearance. Thirty years later he says that a fresh reading has touched him still more, and a note, after a further lapse of twenty years, endorses this opinion. "A work which can please in youth and age seems to fulfil (in logical language) the accidental definition of a classic"'.