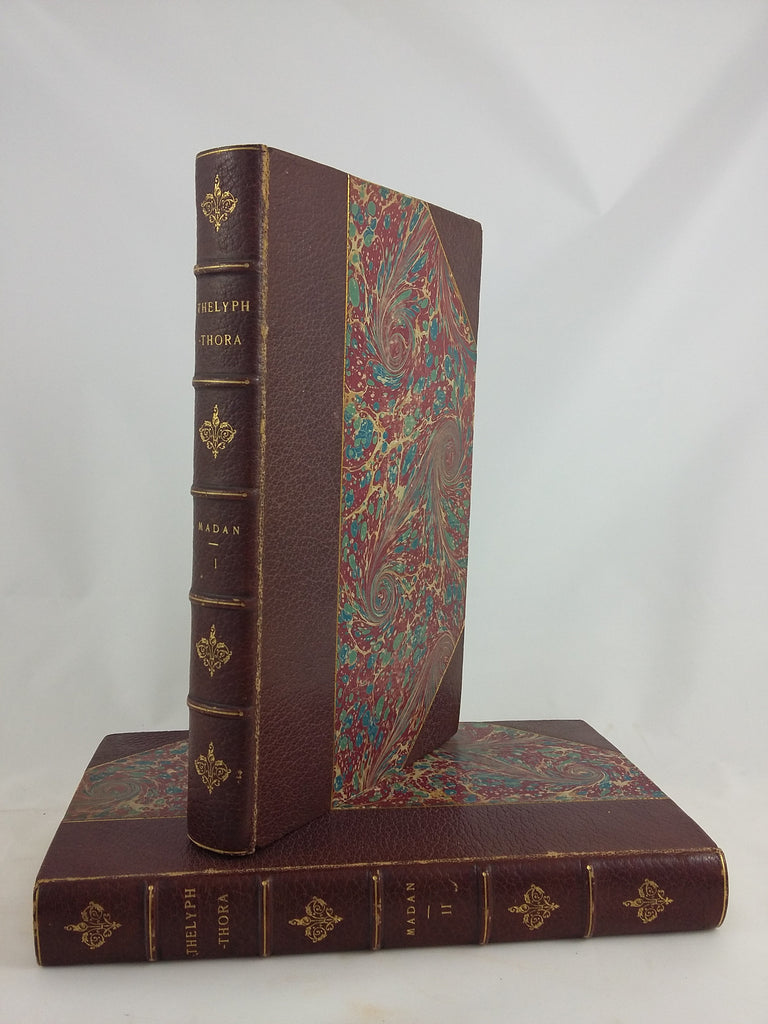 Thelypthora; or, a treatise on Female Ruin, in its causes, effects, consequences, prevention, and remedy; considered on the basis of the Divine Law: Under the following Heads, viz. Marriage, Whoredom, and Fornication, Adultery, Polygamy, Divorce; With many other Incidental Matters; particularly including An Examination of the Principles and Tendency of Stat. 26 Geo. II. c.33. commonly called The Marriage Act. In two volumes.
London: for J.Dodsley, 1780.

First Edition. 2 vols, 8vo, (220 by 142mm) pp.xxiv, 412; [iv], 432, [x] indexes. Top edge gilt, others uncut. Paper repair to blank upper margin of first title, faint even browning. Early modern brown levant, spines in six compartments with raised bands gilt, gilt decoration in four compartments, lettered and numbered in two, marbled boards and endpapers; slight shelfwear only. Bookplate to front pastedown, contemporary ownership inscription of "Babington" dated March 1790, early pencilled marginalia throughout (most angry-looking crosses). Very good/near fine. 
A scandalous anonymous work. Martin Madan (1726-90), first cousin of William Cowper, had already attracted public attention when, in 1750 he made the career switch from lawyer to Methodist preacher, but the impact of this book, in which he advocated polygamy and argued elaborately that it was in accordance with Christianity, was sensational. His patroness, Lady Huntingdon, told him even before publication that she had a petition against it signed by three thousand people, and the scandal attending its publication immediately engulfed the author. Adding a third volume to the second edition in 1781 was only pouring fuel on the flames, and he was quickly forced into an early retirement.