Tom Brown's School Days. By an Old Boy. and; Tom Brown at Oxford.
[HUGHES, Thomas]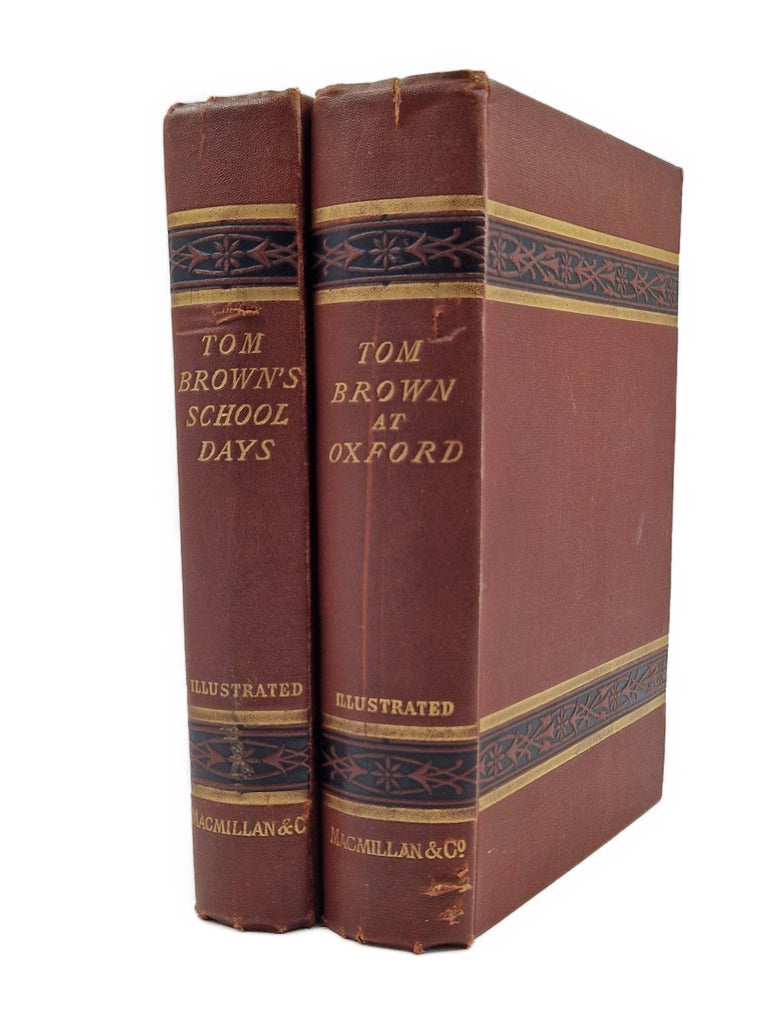 London: Macmillan and Co.. 1882 and 1883.

Two volumes. 8vo. (187x121mm). pp. xx, [2], 376, [4pp adverts]; xii, [2], 546, [2pp adverts]. Seven engraved plates in each volume. Brown cloth decorated with two bands of leaf and flower motifs with gilt borders to upper cover and spine with the design continued in blind on the lower cover. Spine lettered in gilt. Corners bumped and a small crease to spine of volume one and a small tear to head of spine of volume two. Foxing to title pages and a tear with loss to foot of C8 of volume two (not affecting the text) but overall very good copies. The half title in both books is inscribed "J.N.Brocklehurst from the author with all good wishes. April 1883". A nice set of the two Tom Brown novels with gift inscriptions from Hughes. Tom Brown's Schooldays was intended by Hughes to be an exercise in "preaching" rather than an amusing entertainment. Although one tends to remember the cricket matches, the bullying, Tom and Arthur's touching friendship and the general atmosphere of life at Rugby, it was the muscular Christianity and ethical probity that appealed to many early readers. Although Tom Brown at Oxford was less popular than its predecessor, it is regarded as one of the best and most accurate fictional portrayals of life at an English university in the mid-nineteenth century.